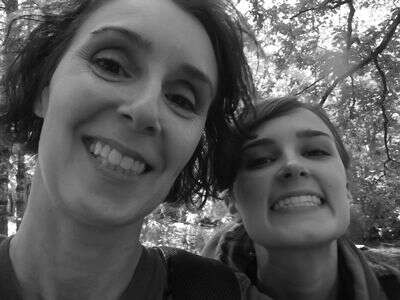 I've always had big chompers-you know the kind that people kid you about. Like: she could eat corn through a picket fence or she's got a mouth full of piano keys to bad she can't play'em.
I remember a little boy-well not that much littler than me-telling me I looked like a rabbit. We were riding the bus home together like we did every day-I knew then-and know now-that he wasn't trying to be mean I really did look like a rabbit.
Funny how we blame/thank our families for our physical traits. You know like "poor little Lisa she got Uncle Lou's nose" or "That pretty Tammy got her Daddy's thick black hair and her Momma's blue eyes."
My teeth-are Wilson teeth. I have more than a few cousins who walk around with the same big chompers that I do. When Chitter and Chatter got their braces off I just knew they'd have my big teeth. I was sorta shocked to see neither girl has my teeth-theirs are not quite as big and are all nice and even like I've always wished mine were.
Chatter has Miss Cindy's hands and feet; I have Granny's hands and eyes but Pap's cheekbones; Chitter favors the Wilsons while Chatter favors The Deer Hunter and his family. But none of us can figure out where Chitter got her feet.
This post makes me laugh-because while most people are pondering the problems of the universe-the Blind Pig family is busy wondering whose feet Chitter has.
Tipper
Appalachia Through My Eyes – A series of photographs from my life in Southern Appalachia.