Today's guest post was written by Ed Ammons.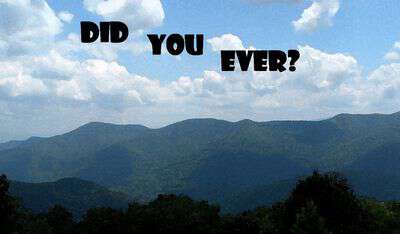 Did Granny ever wash out paper milk cartons and use them to freeze stuff in.
Did Pap ever bring home a whole chub of bologna and call it a cord? Selecto Imitation Bologna. Came from over in Knoxville. Don't know why they called it imitation, it was better that the "real" kind. A big old half inch slice of it and a big chunk welfare cheese bummed from the neighbors and a handful of sody crackers would make a meal fit for a king.
Did you ever roast punkin seeds?
Did you ever put boxwood leaves on top of a hot stove and watch them puff up then start spinning?
Did you ever climb up a tree then ride it over to the ground?
Did you ever make a kite using broom sage and newspaper?
Did you ever make your science project out of dynamite wire and Prince Albert cans?
Did you ever build an igloo in the yard that stood up for a week?
Did you ever hit two flint rocks together at night and see sparks?
—-
I could only answer yes to four of Ed's questions. How about you?
Tipper
Subscribe for FREE and get a daily dose of Appalachia in your inbox