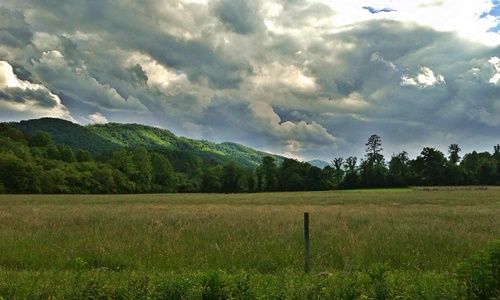 This time of the year my eyes are awed by the mountains of Appalachia. Their green covered slopes reach out to me like loving arms.
When I suddenly notice the mountains are fully clothed in their new garment of green I'm always reminded of a quote I read in a Foxfire Magazine from way back in 1988.
"Down in the flat country, what is there to see? Here in the mountains the world is held up for us to behold."
—Willie Stewart
After the barren look of winter the verdant mountains certainly do look like someone has suddenly held up great pieces of fabric for us to behold.
When we were kids Paul and I would bunch up one of Granny's quilts in the floor over a couple of her couch cushions. We made roads through the mountains and valleys of fabric for our toy cars to travel along.
As I look back I realize, at that age, neither of us had ever thought of a land where there were no mountains to traverse. The only way we knew how to build roads was to make them go up and down like the ones we traveled on in the backseat of Pap and Granny's car.
Tipper
Subscribe for FREE and get a daily dose of Appalachia in your inbox