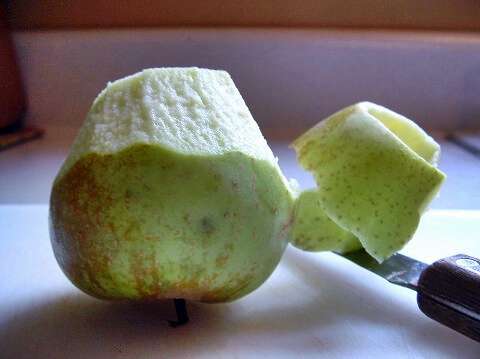 A few days ago Blind Pig reader David Templeton left the following comment:
Tipper, when we were kids back in East Tennessee (way east, Tri-Cities) there was a very common apple tree, we called them "June apples" or "June Apple Trees".  Lots of people had them and they were … well, everywhere.   The apples were yellow, of varying size, kinda like some apples that are called "transparent" apples, but yellow …  pale yellow.  This time of the year they should be everywhere but I have not seen a "June Apple Tree" anywhere.  Maybe it's not soon enough, yet this year.

Do you know "June Apple Trees"?
I had never hear of June Apples until I started writing here on the Blind Pig. Not sure which commenter shared their memories of June Apples with me first, but over the years there has been several readers mention them.
Because of those comments I've kept my ears and eyes out for anything about June Apples.
A couple of weeks ago a friend at work had several apples sitting on her desk. When I asked about them she said a fellow at the gas station had given them to her that morning, said he told here they were really something special that they were June apples.
My friend could see the interest in my face and told me I could have all the apples that she didn't want them.
I happily walked off with her apples, but truthfully they weren't no where close to the best apple that I've ever had, in fact they weren't that good at all. I'm not sure the apples donated by the gas station attendant were even really June apples. They were not the yellow color that David described.
Here are several comments shared by various Blind Pig readers over the years about June Apples.
Ed Ammons: My grammaw had a big June Apple tree in her pasture. She forbade us to eat them until after the 4th of  July. She couldn't even see the tree from her house but we respected her orders and the ones that fell off before the 4th were consumed by the cows. Some of the apples did ripen in June but most waited until the middle of July.
Some of the apples had candy in the center. They looked just like the rest but the more you ate the sweeter they got and the harder they got. Near the core the flesh was almost clear and as sweet as sugar. Only a small percentage were "candy apples" and there was no way to predict them. I wonder if anybody else has experienced them.
Ethelene Dyer Jones:  Comment 1: Fruit–apples–from early June apples until the last of the fall crop was wrapped by individual apples and stored in a barrel to eat at Christmastime, we had apples (fruit) in Choestoe. And then, until they came in again with the June apples–dried fruit and canned fruit, apple cobbler from sliced canned apples, and fried fruit pies. Bounty, indeed! Comment 2: June apples getting ripe meant stack cakes made from the June apple sauce. Then came drying apples (we had to put the slices in a screened-wire flat cage to keep the bugs off while they dried in the sun! In the wintertime it was still stack cakes and the sauce between layers was made from the coooked, sweetened to taste and spice-up dried apples. Yum!
Bill Burnett:  The favorite apples of my youth were June Apples which came off a tree beside Licklog Creek on the edge of my Uncle Pearson Dehart's place as they ripened first and Horse Apples from my Grandpa Andy Dehart's place up on High Lonesome as they turned Glassine with sugar when ripe and made the best Apple Sauce and Spiced Apple Cakes and Fried Pies I ever tasted. Sadly both of these trees are gone but their memory lives on.
Kerry in GA:  I love June apples. Up until a few years ago I had access to 2 different trees. They make the best apple sauce and my kids loved it when they were babies.
Gary Powell: My favorite apples were the June apples that ripened on the tree beside my Granny's house. For some reason it grew on about a 45 degree angle before it straightened up, I guess the wind blew it over when it was small. I could get a running start and run up the trunk far enough to reach a limb. If one of the apples fell off the old hens would run as fast as they could to try to beat me to it.
Brenda S 'Okie in Colorado: Growing up and raised by my Granny, she had pear, June apple, peach, mulberry trees. She raised a garden, canned, helped her neighbors gather their garden and can, she searched the country roads and creek banks for poke. I remember how she would wash that mess of poke about 5 times to get the sand out, boil it twice, then sauté it in bacon fat. A lot of work for a little mess of poke, but, wow, was it good with corncakes, fresh garden green onions and tomatoes.
——————-
So to answer David's question, no I don't know June Apple Trees, but a whole lot of Blind Pig readers know them.
If you have memories or knowledge about June Apples please tell us about it in a comment.
Tipper