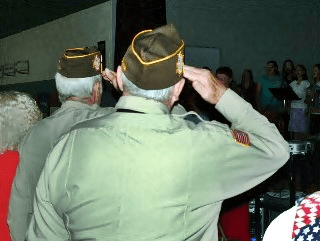 Veterans Day in Appalachia is school hallways lined with gray haired vets…along with some lady vets and young vets sprinkled in-all of whom look uncomfortable with the gratitude being showered on them. It's flags floating along porch railings and mailboxes. It's stiff new mini flags being waved in unison. It's small and large gatherings in town squares.
Veterans Day in Appalachia is fellow comrades teasing each other about the handsome young soldiers shown in the photos flashing on the screen at the front of the room. It's laughter ending in teary eyes and solemn faces as their talk reminds them of those left behind.
Veterans Day in Appalachia is children standing on risers singing about the flag with voices that get louder on the easy parts and fade away on the hard parts. It's special breakfasts, dinners, and suppers-each served lovingly to those who served for us all.
Tipper
Appalachia Through My Eyes – A series of photographs from my life in Southern Appalachia.