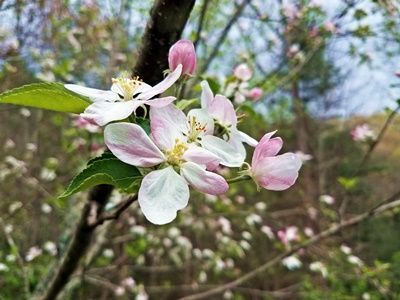 Spring has surely arrived in Brasstown. I know there'll be a few more cold spells before the heat of summer arrives to stay, but Spring is abounding every where you look in Wilson Holler and on down through the settlement of Brasstown.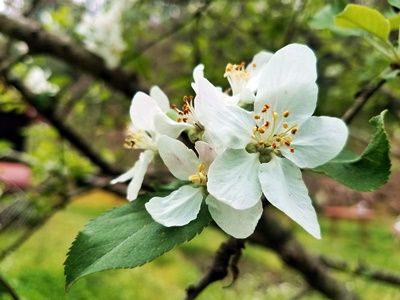 There's more fruit trees than you count in full bloom, including my own two apple trees.
Granny's yellow rose is a riot of color spilling over onto her back porch and into the yard.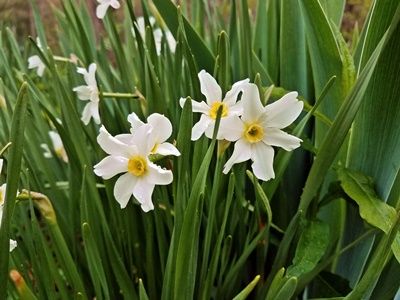 The second flush of later blooming daffodils are shining their cheery faces all around and birds are singing a new song of glory.
Spring is a symbol for new birth. The whole world seems to come alive anew each spring. But if one looks closely they can see the past trying its best to push right along side the rebirth of nature.
I see it in the clumps of daffodils growing in seemingly odd places like by roadsides and deep in the woods. They shout a calling from those who once called the area home and planted them in hopes of a brighter future.
One clump between here and Granny's tells of my own past.
I remember it like it was yesterday although it was well over fifteen years ago.
It all started with me wishing we could pave our steep driveway. Somewhere along the discussion The Deer Hunter explained to me if we paved it we could never hope to enlarge our small yard because heavy equipment would tear the road up.
Before I knew it we'd decided to forgo the paved driveway in favor of a larger yard. A larger yard would mean a place for the girls to have a swing set, to ride bikes, and more importantly a place to grow a garden.
For days I tried to dig up every flower I had and move them into the woods between here and Pap's so that the grading wouldn't kill them and I could move them back once the job was completed.
With my moving job nearly done, Pap had one of his spells that caused me to make a mad dash to the VA Hospital in Asheville in the middle of the night.
It was a hairy ride with Pap dealing with great pain and me trying to hurry without killing us in the process.
I remember afterwards Uncle Henry said "You shouldn't have taken him that far. You should have taken him to Murphy Medical." I said "If I had he'd still be there with them trying to figure out what was wrong with him."
The VA diagnosed Pap with an infected pancreas, gave him medicine by IV, and some meds to take home, and by 3:00 a.m. we were on our way back to Brasstown.
I've never in my life been so sleepy as I was that night. I pinched my leg all the way through Nantahala Gorge trying to keep myself awake. I gave up the fight in Marble and pulled over leaving Pap to drive the rest of the way home. When I told The Deer Hunter he said "My Lord I think I would have drove the rest of the way if I'd made it that far." But I couldn't have driven one more mile without closing my eyes.
As you might imagine I went straight to bed when I got home. I slept like the dead until The Deer Hunter woke me up to tell me they were almost finished grading out the yard. I couldn't believe the progress they made while I slept inside the house.
Every year when Spring makes its entrance in Brasstown I notice the daffodils in the woods that I somehow missed when I retrieved my other flowers all those years ago and I think of the goodness of life. The greening of the mountains, flowers blooming, bees buzzing, birds tweeting, Granny, Pap, The Deer Hunter, and the little girls Chatter and Chitter once were.
Tipper
Subscribe for FREE and get a daily dose of Appalachia in your in