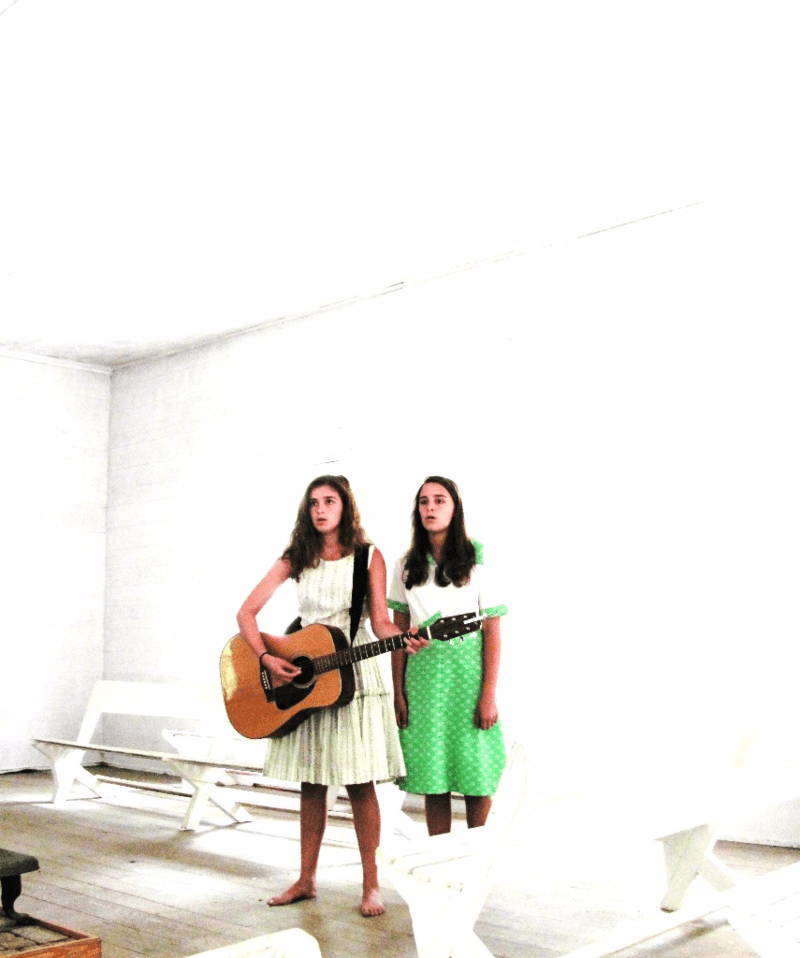 Once we made the decision to hike back to the Little Cataloochee Baptist Church for the girls to sing-I started thinking about how I wanted them to look. Not that they're not adorable in their cut offs and racing shirts-but from the first time Ola Belle Reed whispered in my ear I had a vision, a story in my head.
Girls would have worn dresses in the 20s and 30s. I'm positive the dresses we packed back in the mountains with us aren't from then, but they are old. The one Chatter wore (she's playing the guitar) was given to her by a fellow contra dancer. It was obviously handmade years ago, but we don't know who made it. The one Chitter is wearing is a polyester number made by Granny in the early 70s. Somewhere there's a miniature version of it. Granny was into making matching outfits for her and me to wear.
Granny finds symbolism in everything and I mean EVERY THING. When I was growing up her symbolism got on my last nerve. I mean who would notice a certain flower had 5 petals and there were 5 of us? But as I've gotten older I find myself doing the same thing.
Since the JCCFS plays a huge roll in our lives-it seemed perfect to take along a piece of it in the form of a dress. And for certain it was moving to know Chitter wore a dress Granny sewed when she was younger than I am now.
The process of videoing the girls in the old church was chug full of interesting tidbits-and symbolism from start to finish. Even the fact that we got the video in one take still amazes me. Typically their singing is interrupted by either cutting up, arguing, or both!
I've made you wait long enough…tomorrow the video.
Tipper
Appalachia Through My Eyes – A series of photographs from my life in Southern Appalachia.