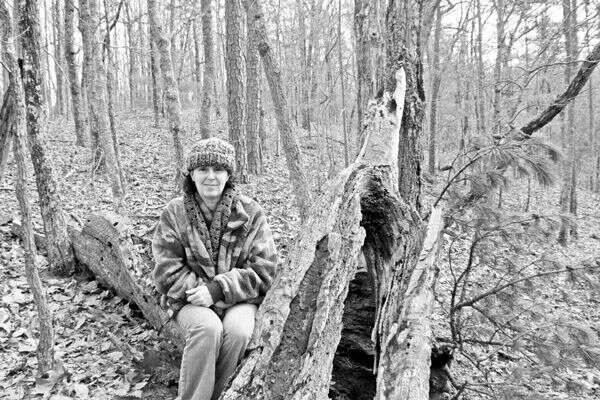 Tipper at the old chestnut snag
Hard to believe, but ten years ago today I posted my first blog post here on the Blind Pig and The Acorn. Somehow the fact that I started it on Granny's birthday has escaped me all these years, but now that I've noticed it seems very important to me. So we have two things to celebrate today: Granny's 78th birthday and the Blind Pig's 10th birthday.
When I first started the blog I had hopes of the site contributing to our family income. While the Blind Pig does provide some monetary income, I've come to realize with utter clarity the unforeseen wealth I've gained by running the Blind Pig and The Acorn couldn't be bought with all the gold in Fort Knox. Every time a Blind Pig reader leaves a comment they leave a jewel for me to hold close to my heart and ponder on as I go about my day. And those who comment often weave their way into the very fabric of my life. Through the blog I've met people whom I would never have met otherwise.
Then there's the tangible wealth readers have shared with me: seeds, vinegar, onions, squash, black walnuts, a walnut cracker, artwork, ground cherries, books, beloved books, photos of their family, photos of my family, apples, baskets, antiques, craft supplies, foxfire magazines, cookie cutters, rings, stone ground cornmeal and grits, a hammer, old jars, old bottles, music, information, writings, cast iron pots, soap, honey, woven treasures, cds, hand forged crosses, poems, quilted pigs and acorns, jellies, jams, pickles, jerky, recipes, and on and on and on. My readers are a generous bunch of folks.
I have high hopes for the future of the Blind Pig and The Acorn. I sure hope you'll continue to visit me in my corner of Appalachia as I celebrate and preserve the rich culture and heritage I'm lucky enough to be surrounded by.
If you'd like to see the very first post you can go here: Welcome to the Blind Pig and The Acorn.
Tipper
Subscribe for FREE and get a daily dose of Appalachia in your inbox