Welcome! Glad you stopped by and hope you stop by often as I celebrate my Appalachian Heritage. I have always had a love for history, antiques, vintage finds,-basically anything old. As long as I can remember I have craved a connection with my heritage and the creativity that abounds in it. My hope is that through this blog I can begin to understand how the love for the past can be woven into a hope for the future as well as an appreciation for the present. Today I want to share the features of the blog with you.
Appalachia is a haven for artisans of all genres. I believe historically this shows the independence that is often associated with mountain folk. They depended on themselves or their neighbors to supply the necessities of life: clothing, quilts, food, soap and even entertainment. As I go along I will feature some of the great artists and regular everyday folks who are carrying on traditions handed down from the past and making them relevant to today. You can see the profiles as they are posted and on the Mountain Folk page.
Just saying the word "Appalachian" brings to mind music. I grew up in a musical family and was blessed to hear traditional Appalachian music on a daily basis. Pickin & Grinnin will be a regular spot here and will feature my family's music. Other pickers and grinners will also be featured.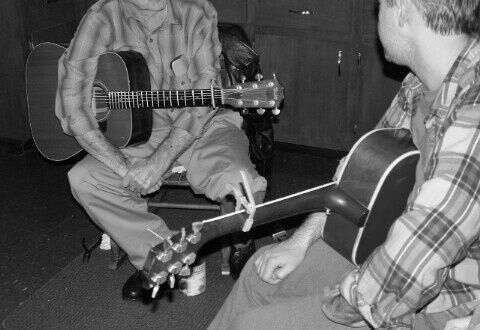 For some Appalachia might bring to mind The Beverly Hillbillies and the quirky, feisty Granny. I think Grannies have been, and still are a tremendous asset to the world. Both my Grannies (although one was called Mamaw) were a huge influence in my life-after all they each raised people who went on to become my parents. My mom is now Granny to my girls, niece and nephews. I must admit some of the The Beverly Hillbillies' Granny characteristics, though exaggerated, are true. So I have made a Grannyisms page where you can read about funny, quirky things said or done by my Grannies and leave posts about your Granny and the influence she made on your life or her quirky ways.
Tipper
Comments:
Dawn said:
Believe it or not, I too know what it's like to have cold feet.
Reply | Edit | View | Mar 11, 2008 on Welcome to the Blin…
PublishedSelect Status
nana pressley
nana pressley said:
That is one great arm – who does it belong to???
Reply | Edit | View | Mar 8, 2008 on Welcome to the Blin…
PublishedSelect Status
Sarah
Sarah said:
What a gorgeous blog and welcome to blogging!
Reply | Edit | View | Mar 8, 2008 on Welcome to the Blin…
PublishedSelect Status
Miss Cindy
Miss Cindy said:
Tipper, this is absolutely wonderful. The beauty of who you are shines through loud and clear on every page! I can hardly wait to see this evolve! One small question, who is the good looking guy with the tomatoes and corn?
Reply | Edit | View | Mar 8, 2008 on Welcome to the Blin…
PublishedSelect Status
Mattie
Mattie said:
Very cool site!! Love it! You have a wonderful family!! Please keep posting!
Reply | Edit | View | Mar 8, 2008 on Welcome to the Blin…
PublishedSelect Status
Dawn
Dawn said:
You go girl! Your blog looks wonderful and I'm so happy for you 🙂 Can't wait to see how the Lord blesses your endeavors! Brian especially likes the tunes 😉
Reply | Edit | View | Mar 8, 2008 on Welcome to the Blin…
PublishedSelect Status
dana
dana said:
LOVE the music!!!!!!!!
Reply | Edit | View | Mar 7, 2008 on Welcome to the Blin…
PublishedSelect Status
dana
dana said:
I'm so excited to see that your blog is up and running. And, it looks fabulous too. Reading about what you plan to do here is exciting. I look forward to checking it daily!
Reply | Edit | View | Feb 26, 2008 on Welcome to the Blin…
PublishedSelect Status
Kayla and Alex
Kayla and Alex said:
We love you Tipper (Nany), and your blog looks great! We will be checking back often for updates! love, Kayla & Alex