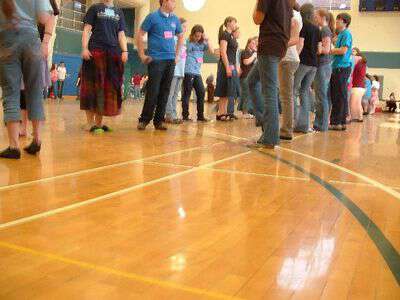 The Mountain Folk Festival really is all about the dancing-just like the founders wanted it to be. The festival days usually start at 8:00 a.m. and the dancing is still going strong at 8:00 p.m. at night. The kids are amazing-their attitudes are positive-they are eager to learn-and most all of them seem to absolutely love the dancing.
Here's a quick peek of a few different types of dancing-including the Gisburn Processional-courtesy of Old Red Barn Co.
Looks like fun doesn't it? One of my favorite parts of the festival is show off time. Since the kids participating in the festival come from a variety of locations-they are allowed to show off the type of dancing they are most familiar with. In our case it's Clogging. Instead of going it alone-this year Chitter and Chatter had 2 of their clogging team-mates there to dance with them. There was a minor problem with their music-but they still brought the house down with their stomping.
Now that's what I call dancing. Hope you enjoyed the videos-what type of dancing are you most familiar with?
Tipper