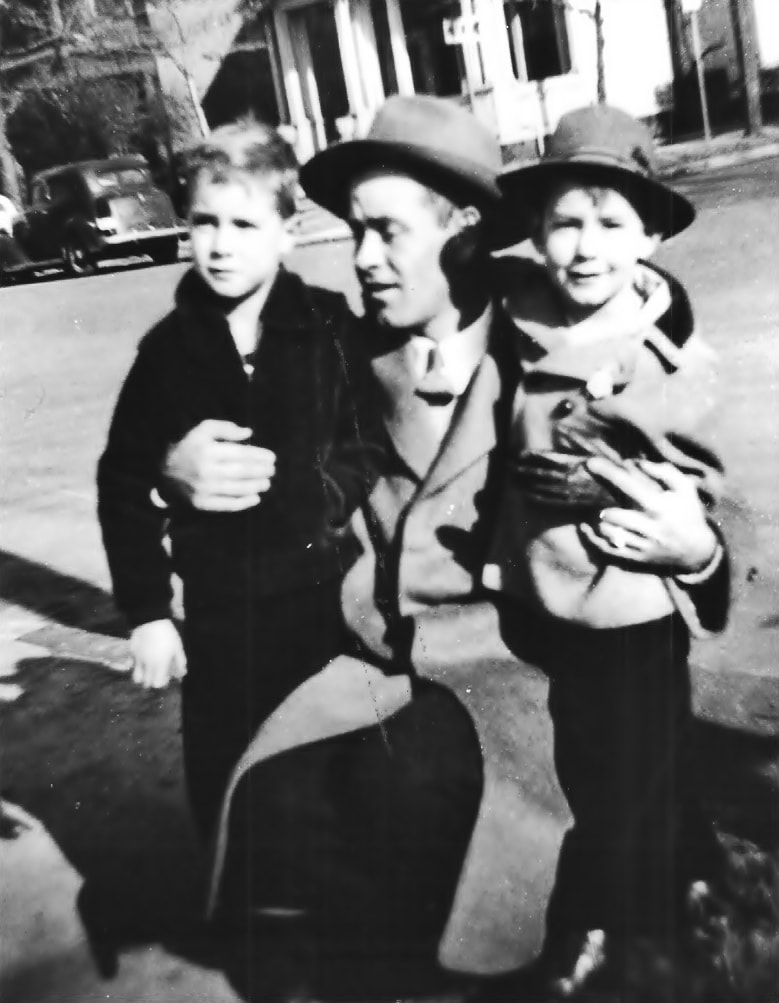 Pap, his Uncle, and cousin George in New Port News VA during WWII
"Gertie thought for an instant of a game the children played where on a signal everybody had to stop and hold himself exactly as he was. But hound dogs never played games, and now they stood, heads lifted, listening like cur dogs. She heard it then, the sound faint on some high spot on the ridge road far away. A strange car was coming in, not the grocery truck but a car. The only cars that came brought news.
It seemed like something was choking her. She stood, the spading fork gripped in both hands. She wanted to go on with her work, dig another hill, but could not. Maybe it was some coal truck the government had left by mistake out hunting a load of coal. Unless a man were lost or hurt or killed in the war, they didn't make a special trip to bring the news. She tried to reason, but ice-cold hands, stronger than any human hands could be, were squeezing her chest and back, pushing on her throat.
It wasn't her turn. Clovis had been gone only ten days. Her turn had come with Henley. It wouldn't come back. Turn by turn, she old herself. Still she listened, with her whole body, as the others listened, heads lifted, nostrils faintly flared for the thin wind. It was nothing, not a thing; they'd all be scared by a wandering airplane. Then Matthew, Samuel's oldest boy at home, and twelve years old, who stood by the fence, called to the older and those further down the field, "It's a car—a good-runnen car that don't make hardly no noise—a comen thisaway."
—The Dollmalker – Harriet Simpson Arnow
—
Pap told me a story about a good-runnen car coming through Brasstown when he was a boy.
It was after WWII had ended, but the draft was still going on. Pap said a bunch of men and boys were standing around at the store, much like Gertie and her neighbors were.
A fancy low riding car pulled in and two sharp dressed men got out.
Seeing a car in those days was still something of a rarity in this area, and seeing one that was nicer than anything else around was big doings for sure.
The passengers were government men sent to look for a local boy who was evading the draft…or who they thought was evading the draft. Pap said the boy they were looking for hadn't never been right. There was something about his brain that just didn't work like most people's.
The officials explained their mission to the circle of men. Pap said "A few of them explained about the boy's condition and then after asking a few questions the government men got back in their car and left. We never heard anything else about it."
I said "Well why would they take the word of a bunch of men standing around at a store? Wouldn't they want to talk to the boy themselves?"
Pap smiled at me and said "Well, for one thing those men were telling the truth. The boy couldn't have been a solider. And for another thing, Tip things were different in those days."
Tipper
Subscribe for FREE and get a daily dose of Appalachia in your inbox