Today's guest post was written by Stephen Taylor.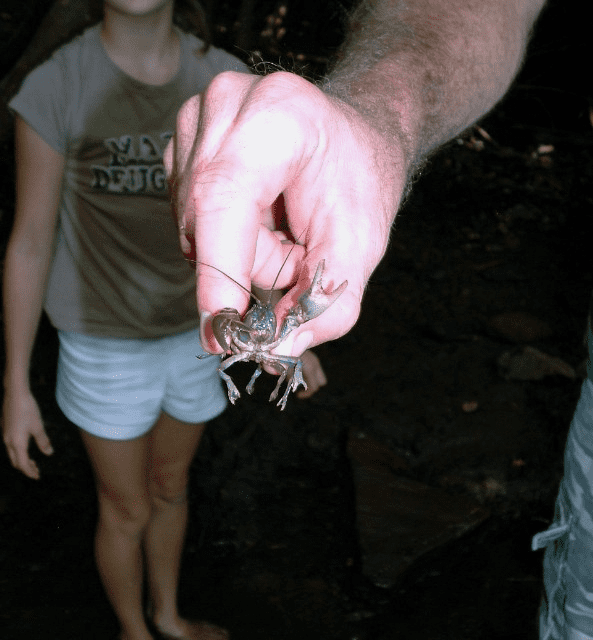 Tales from Kathy Campbell

There were lots of wild things where we lived. Daddy had built our home on what used to be a swamp. With the help of an extension agent, he had figured a way to drain the swamp. Trouble is, even though the water was gone, some of the creatures that had lived in the swamp were still around. The yard around our home was full of little holes because the crawdads had not moved out with the water. Well, the crawdads sometimes made the most of our being barefoot and would sometimes clamp their claws on one of our toes, or our curious dog's nose.

Fortunately for us, Daddy would bring home the little pieces of carbide that had not been used up in his miner's lamp during his shift. He would give them to Freddy and me.

An interesting thing about crawdads is that they always build an escape route, so if one opening of their underground home is blocked, there is another opening to get out. An interesting thing about calcium carbide is that when it gets wet, it produces a very flammable gas that when lit, produces a great bright light, or sometimes, a great big explosion.
Freddy and I were tired of the crawdads snapping at our toes so one day, we collected all the carbide pieces Daddy had given us. We went around the yard dropping a piece of carbide in a hole, waited a few seconds then dropped a match in right after only to see a crawdad blow out its other hole. That's the way we cleared our yard of crawdads.
---
If you've ever been pinched by a crawdad you'll understand why Kathy and her brother wanted them gone. An old piece of folklores says if a crawdad gets a hold of you it won't let go till it thunders. When those little boogers grab hold of you it certainly feels like they'll never let go.
The girls have an underwater camera. Almost every time Chitter uses it she gets amazing footage of the crawdads that inhabit Stamey Creek.
Tipper
Subscribe for FREE and get a daily dose of Appalachia in your inbox