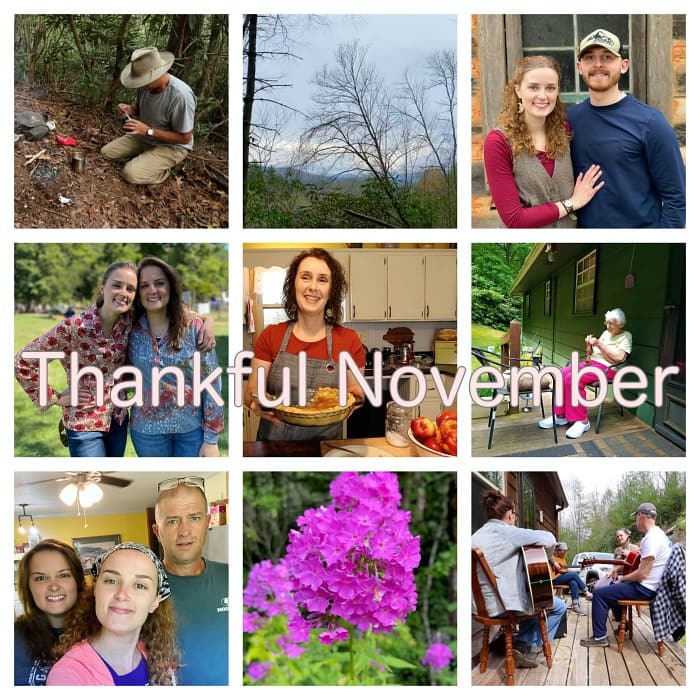 "Several years ago there came a great snowfall in western North Carolina. The Red Cross came to help people who might be stranded without food or fuel. Two workers heard of an old lady way back in the mountains living alone, and they went to see about her, in a four-wheel drive vehicle. After an arduous trip they finally skidded down into her cove, got out and knocked on the door. When she appeared, one of the men said, "Howdy, ma'am, we're from the Red Cross," but before he could say anything else, the old lady replied, "Well, I don't believe I'm a-goin to be able to help you any this year. Its's been a right hard winter."
—Loyal Jones "Appalachian Values"
---
I love the self reliance of the woman in the story. She just couldn't imagine the men would be coming by for any other reason than to take up money for the Red Cross 🙂 because she had everything she needed even if there was a snow storm.
Today's Thankful November giveaway is a used copy of "Appalachian Values" written by Loyal Jones. I really love the book. In my opinion Jones sums up the personality traits of Appalachians better than any other author I've ever read. To be entered in the giveaway leave a comment on this post. *Giveaway ends November 17, 2021.
Last night's video: Mountain Path 13.
Tipper
Subscribe for FREE and get a daily dose of Appalachia in your inbox