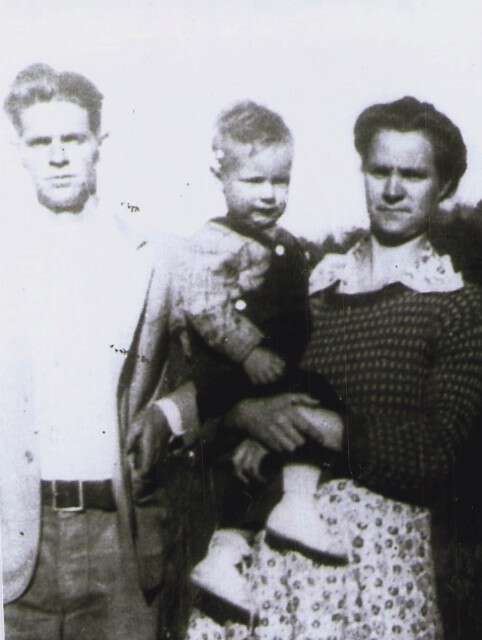 Pap with his father, Wade, and mother, Marie
I bet you're thinking I'm a day late with my post-but I'm not.
Yesterday-July 16th was Pap's birthday. We don't do much present buying for birthdays around here. We might call and sing Happy Birthday-give a card-call with well wishes-or sometimes totally forget it and then feel bad a few days later when we remember it.
On Sunday I realized Monday would be Pap's birthday. Then yesterday Chatter called me at work to ask if she could make Pap a cake or a pie for his special day-so I came home with it on my mind wondering if she got the cake made with no one there to help her.
This past Saturday, Ed Ammons, who loves genealogy, sent me a scanned copy of my Papaw Wade's  (Pap's father) registration card. I was in amazement-looking at Papaw's handwriting from so long ago-seeing that he was 25 years old. I pictured him in my mind-taking time out of his busy day to go into town on a dusty road to sign up.
I showed the card to everyone in the house. But Saturday was such a busy day; I didn't get to show it to Pap. Our usual Sunday afternoon pickin' and grinnin' session was cancelled and I never got down to Pap's to show him the registration that day either.
Back to yesterday-when I got home from work, The Deer Hunter was on the tractor telling me our big garden was getting away from us. So after I ate and changed clothes I headed to the garden to weed. I stuck the registration in my pocket thinking I would come back by Pap's and give it to him.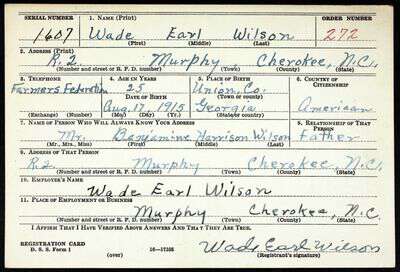 As I weeded weeds that were shamefully bigger than some of the plants-I thought about Pap and I thought about Papaw. I again pictured Papaw in his dusty farmer's overalls standing in front of a desk waiting while he wished he was back at home in the field needing to do what needed to be done. I remembered how after Papaw was turned down for service due to an injury he suffered as a child (he fell off the log cabin and broke his leg-which resulted in one leg being shorter than the other) that he went to Newport News VA to work in the ship yards. I remembered Pap telling me him and his Mother caught the train in Murphy and went up there to see him. I thought of those stories Pap told me about that time-and realized the registration card was part of those stories-it was part of their lives.
Once I had fought all the weeds I could for one evening, I went to Pap and Granny's. There was a house full of well wishers there. I gave Pap the registration card and he asked what it was. I said "Oh it's not a birthday present, someone from the Blind Pig sent it to me-it's Papaw's registration card."
Pap's eyes sparkled as he looked at his Daddy's handwriting from so long ago. His voice took on a powerfulness as he explained to me why Papaw had written Farmers Federation in the blank for telephone. As Pap told the room stories from those by gone days, I realized the registration was a dandy birthday present even though I didn't intend it to be one. I know for certain, if I live to see it, my 75th birthday would most certainly be made brighter with warm thoughts of Pap from the past.
Tipper
p.s. In case you're wondering-Chatter did get it made-she made Pap a Pumpkin Roll.