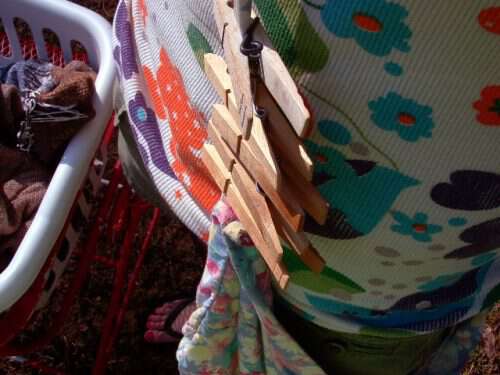 Over the weekend, I sent Chatter to hang out a  load of clothes. Afterward she told me-"I'm going to have a clothesline someday. I like hanging out clothes." I told her-I like hanging out clothes too. There is just something nice about going out in the yard and hanging out fresh clean clothes and linens.
As I watched Chatter hang out the clothes I noticed she had already figured out what method worked for her. She lines a few clothespins along the strap of the bag. Granny made that bag for me ages ago.
My method is a little different. I put a pin in my mouth and hold 4 or 5 in my right hand as I move along the line.
Do you hang out clothes? What method works for you?
Tipper
Appalachia Through My Eyes – A series of photographs from my life in Southern Appalachia.