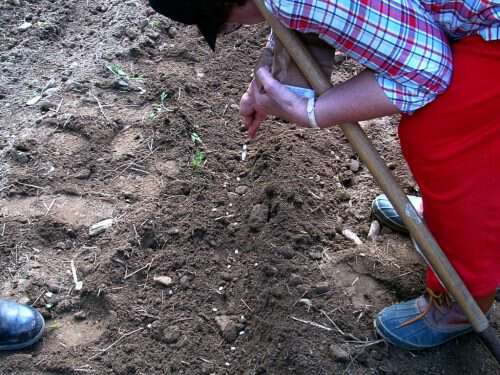 Our spring garden is moving right along-we hope to eat lettuce, radishes, and onions out of it within a week or so. Over the last several years (since the economy took a nose dive) I've noticed people tilling up new ground for gardens. This spring-the trend is continuing in my area.
Some folks are giving up part of their lawn-while others are turning fields that have lain barren for most of my lifetime. I noticed one house down the road-they moved their pasture fences in leaving less room for the cows but more room for gardening.
As the increase in gardening country wide has taken hold groups such as Foods Not Lawns International have sprung up and it's become quite the trendy thing to work in your 'edible landscape' instead of trimming the hedges or feeding the roses.
For us the lawn hasn't never been that important. It's a good thing cause neither of us have figured out how to grow lush green grass in red clay on the north side of the mountain. I do love a nice yard though-especially if you have kids. As our kids have gotten older-and played in the yard less-we've gradually taken parts of it to add a raised bed for vegetables, plant blueberry bushes and fruit trees. In fact we took up a large portion of the backyard this past weekend with a new project-that's why the swing sets came down (more on what we did later).
I'll leave you with some questions:
*Do you notice more people gardening where you live?
*Have you made an effort to grow more since the economic downturn?
Tipper