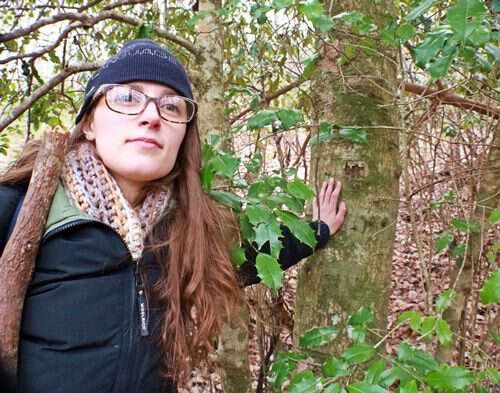 On our last hike up the creek The Deer Hunter said he wanted to show us the biggest holly tree he'd ever seen. Chitter has her hand on the trunk of it in the photo above. We were all amazed by the size of the tree. The Deer Hunter said he stumbled upon it years ago on a coon hunting trip.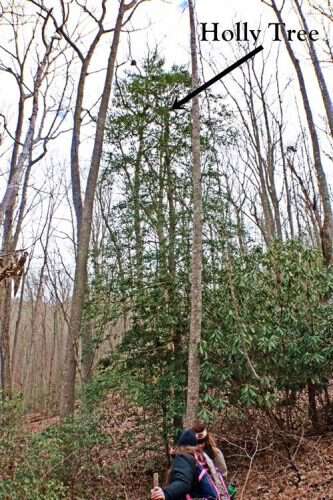 After a quick google I was surprised to learn Holly trees can grow even larger than the one up the creek. Here's some information from the NC Extension website:
Ilex opaca
Common Name(s):
American holly, Holly
Comment:
The Ilex opaca range is from as far north as Massachusetts and Pennsylvania and south into Florida and Texas.

This majestic tree can reach heights of 30 to 50 feet with an overall shape that resembles a pyramid. The younger the tree is the more pyramidal the overall shape will be. As the tree matures the shape becomes less pyramidal. It can be single or multi-trunked.

When the pilgrims first landed, the spiny, evergreen leaves and red berries reminded them of their native English Holly. They began using this plant in holiday decorations and gave it the nickname Christmas holly.

The bark is gray-white in color and may be splotched or warty.

This plant is moderately salt tolerant.

Regions: Mountain, Piedmont, Coastal Plains

Seasons of Interest:

Bloom: Spring Fruit/Seed/Nut: Fall

Wildlife Value: It is a host plant for the Henry's Elfin butterfly and provides nectar for adult butterflies and other insects. Its fruits are eaten by songbirds, wild turkeys, quail, white-tailed deer, squirrels and other small mammals. Honeybees are attracted to its tiny white flowers. Members of the genus Ilex support the following specialized bee: Colletes banksi. This tree provides cover during the winter. The American holly is highly deer resistant.

Notes: More likely 15-30′ under normal landscape conditions

Height:
30-60 ft.
Flower:
The American Holly is dioecious (male and female flowers are on separate trees). It has greenish-white flowers bloom May-June (male flowers in 3-12 flowered clusters and female flowers solitary or in 2's or 3's). It also produces bright red or orange fruits (drupes to 1/4- 1/2″ diameter) which ripen in fall on pollinated female trees, and persist on the tree through the winter. It must have both sexes in order to produce its fruit.

Fruit:
Red berries on female plants
The Holly tree up the creek is by no means a record breaker, but in our neck of the woods it is indeed the largest Holly tree I've ever seen. There's a fairly large Holly tree in front of the Keith House at the John C. Campbell Folk School. The tree is split between several trunks, none are as large at the one up the creek, but combined they are larger. You can go here to read about he holly and she holly.
Tipper
Subscribe for FREE and get a daily dose of Appalachia in your inbox