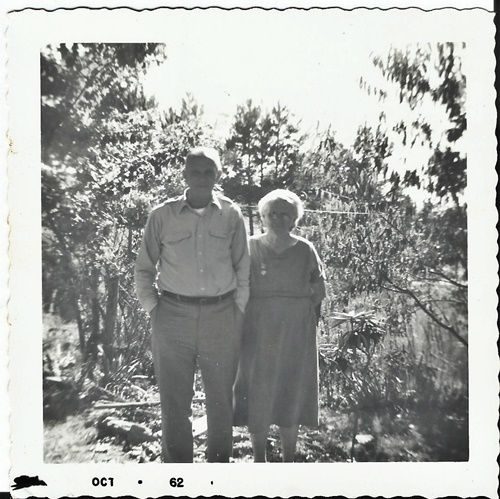 Charlie and Gazzie
Charlie Suvannas Jenkins b. March 4, 1901, in Cherokee County, NC to Cash Suvannas Jenkins and Missoura Hawkins Jenkins. A daughter Florance was born to them in 1904. In 1906, Charlie's mother died leaving him without a mother at six years of age. He and his sister went to live with his mother's brother, Bud Hawkins and his wife, Cora. Charlie's father, at that time was working in Copperhill, TN in the copper mines. He could not take his small children with him. Charlie and Florance had to live with their uncle and aunt for several years until his father, Cash, remarried. Cash married Amanda Dove Teague. They reared Charlie and Florance on a farm in the Mt. Pleasant area of Cherokee County. To Cash and Dove were born one daughter Jessie and twin sons, John and James, who died at birth. When Jessie was about ten years old, her mother died. Dove was Charlie's beloved stepmother and it hurt him deeply. Later Cash married Kate Ware, she was a niece of his first wife, Missoura. Born to Cash and Kate was a daughter, Eva.
Charlie served time in the Navy. When he returned home, he met and married Gazzie Jane Truett on May 30, 1921. She was the oldest child and daughter of Rev. William Thomas Truett and Amanda Telitha Hyde Truett of the Peachtree Community in Cherokee County, NC. In their early married life, Charlie and Gazzie had it tough at times. He worked for the L and N Railroad in Swannanoa, NC, as well as in Culberson, NC. They moved from town to town in Western North Carolina when one job gave out, he went to find another. Charlie did all kinds of work to support his wife and children. He and Gazzie cooked for loggers in the Snowbird Mountains near Robbinsville, NC. Gazzie had to quit because she was expecting a baby so they moved on. From job to job he went during the Depression of '29. By that time, they had had five children, only three lived. They finally settled in Culberson, NC. Charlie and Gazzie had a total of eleven Children.
Willie Mae Jenkins b. 1922, died at birth
Helen Fay Jenkins Rogers, b. 1923, d. 1989
Thomas Cash Jenkins b. 1925, died at birth (lived 2 days)
Amanda Geraldine (Jean) Jenkins Clonts b. 1926, d. 2011
Dorothy Louise Jenkins Allsbrooks b. 1929, d. 2011
Charles Jenkins, Jr. b. 1931, d. 1988
George Lloyd Jenkins b. 1934, d. 1992
Geneaive Nell Jenkins b. 1937, d. 2009
Evelyn Louzine Jenkins Wilson (Granny) b. 1940
James Woodrow Jenkins b. 1942
William Henry (Lucky) Jenkins b. 1946
Charlie Suvannas Jenkins died on February 24, 1970 and his wife Gazzie died on April 27, 1996.
—Excerpt from "The Heritage of Cherokee County, NC, Volume II"
—-
Charlie died the year Granny had me, so I don't remember anything about him. From the stories Granny and Pap told about him, I know Charlie must have been a fine man.
I have lots of fond memories of Gazzie who died the year I had the girls. I remember her as always being happy and jovial. I also remember she didn't put up with nothing she didn't like either. Gazzie made the best fried sweet potatoes I've ever tasted and her biscuits were just perfect. She kept left over biscuits in the top warmer of her wood cook stove. I'd always head straight to her tiny kitchen to see if there were any biscuits left so I could nimble on one before Sunday dinner was served.
Tipper
*Source: "The Heritage of Cherokee County, NC, Volume II, ' Information compiled by: Amanda Geraldine "Jean" Jenkins Clonts.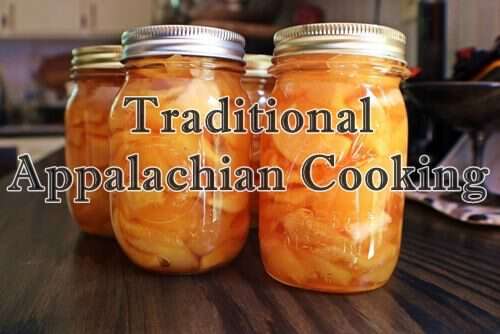 Come cook with me!
MOUNTAIN FLAVORS – TRADITIONAL APPALACHIAN COOKING
Location: John C. Campbell Folk School – Brasstown, NC
Date: Sunday, June 23 – Saturday, June 29, 2019
Instructors: Carolyn Anderson, Tipper Pressley
Experience the traditional Appalachian method of cooking, putting up, and preserving the bounty from nature's garden. Receive hands-on training to make and process a variety of jellies, jams, and pickles for winter eating. You'll also learn the importance of dessert in Appalachian culture and discover how to easily make the fanciest of traditional cakes. Completing this week of cultural foods, a day of bread making will produce biscuits and cornbread. All levels welcome.
Along with all that goodness Carolyn and I have planned a couple of field trips to allow students to see how local folks produce food for their families. The Folk School offers scholarships you can go here to find out more about them. For the rest of the class details go here.
Subscribe for FREE and get a daily dose of Appalachia in your inbox