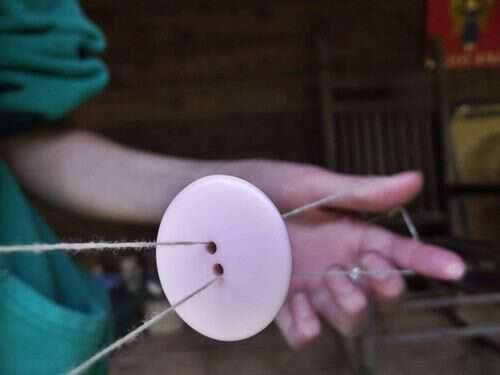 "We made what we called a "zizzer" out of a big two hole button and a strang. To make one, put a end of the thread through each one a the holes, an'en tie it in a hard knot, leaving about a ten inch loop a strang on each side of the button.
Loop the thread over each of your thumbs, a-keepin' the button in the middle. Then brang your hands about six inches apart to give some slack in the strang, and swing the' button around and around, a-twistin' up the' thread. Slowly bring your hands a part, then pull harder and faster, and this puts tension on the thread and starts the button to spinnin' as the thread untwists.
Right when the thread jist about comes untwisted, start to giving it slack again. The button keeps on a-spinnin' and twists it up again. You can do this over and over without having to rewind, just by pullin' your hands apart an'en easin' 'em back torge each other. The thang is, you can ease that button down to jist barely tetch sump'm solid as it spins, and it makes the dangdest whinin' racket you ever hyerd, "zzizz, zzizz, zzizz." And hits'a real loud, high-pitched racket if somebody holds out a sheet of paper good and tight for you to make it zizz against. Sounds like a si-rene (siren) on the poleece car."
Gratitude for Shoes – Cleo Hicks Williams
—–
One of my favorite memories of spending time with Pap's mother, who I called Mamaw, was her making me a zizzer. I believe Paul was there to and that she made both of us one. I kept mine for years, but I don't have it today, although I wish I did.
Tipper
Subscribe for FREE and get a daily dose of Appalachia in your inbox