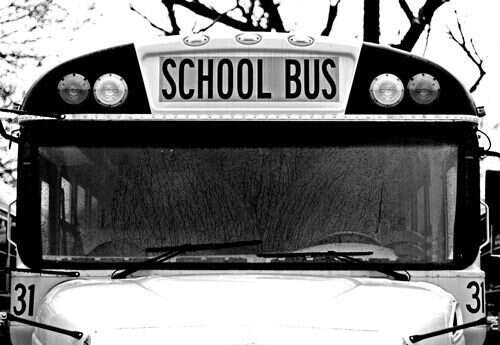 I remember playing School Bus even before I started school. We had about six or eight old straight chairs. You know, the ones with the cane bottoms. We would line them up in two rows with one up front for the driver. Mommy loaned us her biggest pot lid for the driver to use as a steering wheel. The bus would "go", the bus would stop, to pick up and let off kids. Everybody had to get off at school of course but in only a minute of so somebody would say "ding-ding-ding" and we would all pile back on the bus to go home. In truth most of the riders would have all gotten off at the last stop along with the driver.
The oldest kid always got preferential treatment of course and got to be the driver. That would usually be Harold except on rare occasions when he wasn't there and I, being the second born, got to drive. The younger kids didn't seem to mind. They were content just to be on the bus.
We also played Race Cars with pot lids. Those were smaller than the school bus steering wheel and we found then in old trash piles so they didn't have to be checked in at the end of the day. Race Cars was much more animated than School bus what with roaring engines, squealing tires, crashes and such. Race Cars had sound effects provided by the drivers and played at full volume. Race Cars had to be played outside. Mommy insisted! "You git out of this house with all that noise and don't you come back in til you can be quiet!"
Precious Memories!
~Ed Ammons
——
I hope you enjoyed Ed's memories as much as I did. Although I never played school bus I can see why it would appeal to kids, especially those who aren't yet old enough to climb aboard for the ride to school.
Ed's comment about playing race cars reminded me one of my friends and I used shoes for barbie doll cars.
Tipper
Subscribe for FREE and get a daily dose of Appalachia in your inbox