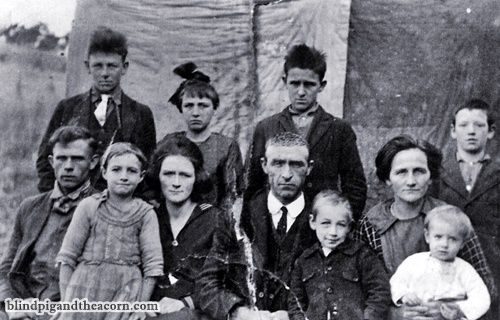 Back from left: Henry, Gertrude, Harrison, Hardy. Front from left: Charlie Jenkins, Pearl, Gazzie, Thomas, Byers, Amanda, and Grace (Kate wasn't born yet)
Thomas W. Truett was born August 31, 1883. He was the son of William Henry and Susie Moore Truett. Amanda Hyde was born December 3, 1886. She was the daughter of Thomas and Jane Sawyer Hyde. The couple were married in 1902 and had nine children; Gazzie Jenkins, Henry, Harrison, Gertrude McClure, Hardy, Pearl Touhy, Byers, Grace Gregory, and Kate Williams.
Amanda was a homemaker all of her life. She died in November, 1951.
Thomas attended school in Cherokee County and finished his education at Young Harris College in Georgia. Brother Tom, as he was known to most everyone, was a Baptist minister for fifty-five years. The minutes of the West Liberty Baptist Association meeting of 1931 reveal some of his dedication to this work. Mr. Truett was elected moderator of the meeting and was pastor of four churches that year; Culberson, Mt. Morriah, Shady Grove, and Hopewell.
Shortly before his death in 1965 an estimate of the results of his years in the ministry was given. He baptized approximately 2,000 people, conducted about 1,500 funerals, performed 300 weddings, ordained 20 ministers, and organized 15 churches.
He never drove a car. His highest salary in any year was $2,000, which he received during the time he was mission pastor for the state mission.
Reverend Tom also had a great love for music and he possessed a powerful voice. During his last hospital stay, he sang the hymn "Beautiful Star of Bethlehem" for a group of visitors. At the time of his death, Tom was pastor of Shady Grove Baptist Church. He is buried in the cemetery there.
Several years after his death, the local Baptist association was renamed the Truett Baptist Association in honor of Thomas Truett and his first cousin Dr. George W. Truett, former pastor of the First Baptist Church of Dallas, Texas.
—Excerpt from "The Heritage of Cherokee County, NC, Volume II"
—-
Thomas and Amanda were Granny's grandparents. Drop back by tomorrow and I'll let Granny tell you a little bit about them.
Tipper
*Sources: "The Heritage of Cherokee County, NC, Volume II," 1931 Minutes from West Liberty Association, Betty Coffey.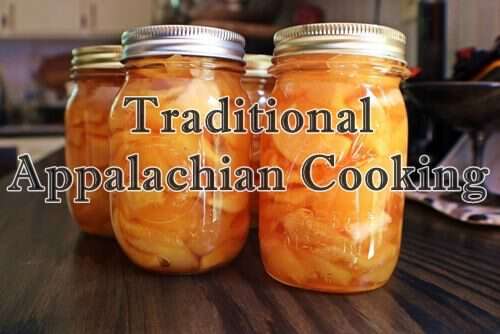 Come cook with me!
MOUNTAIN FLAVORS – TRADITIONAL APPALACHIAN COOKING
Location: John C. Campbell Folk School – Brasstown, NC
Date: Sunday, June 23 – Saturday, June 29, 2019
Instructors: Carolyn Anderson, Tipper Pressley
Experience the traditional Appalachian method of cooking, putting up, and preserving the bounty from nature's garden. Receive hands-on training to make and process a variety of jellies, jams, and pickles for winter eating. You'll also learn the importance of dessert in Appalachian culture and discover how to easily make the fanciest of traditional cakes. Completing this week of cultural foods, a day of bread making will produce biscuits and cornbread. All levels welcome.
Along with all that goodness Carolyn and I have planned a couple of field trips to allow students to see how local folks produce food for their families. The Folk School offers scholarships you can go here to find out more about them. For the rest of the class details go here.
Subscribe for FREE and get a daily dose of Appalachia in your inbox