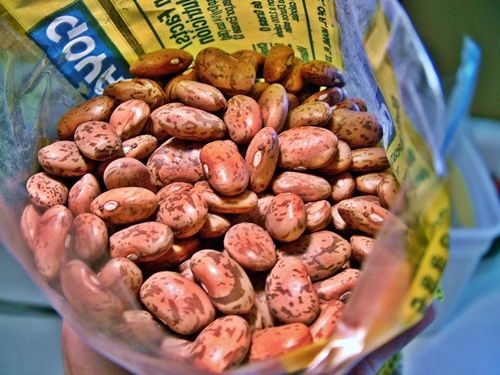 "No account of food habits in East Tennessee would be complete without a discussion of the role of dried beans. If there was a single staple when I was growing up, it was dried beans. They might be white, pinto, or mixed, but they were always there. Every two or three days beans would be cooked, usually seasoned with fat salt pork; they were much better if cooked with a country ham (or shoulder) shank.
Then they were reheated each day until they were gone and a new batch was started…Given this heritage, is it any wonder that I still must occasionally find a pinto (or Great Northern) bean fix to make it through a hard week?
Even though East Tennessee humor tends to be a little strange, I ought to give you one bean story. It seems that a farmer came home after a hard day's work to see that supper consisted of pinto beans and corn bread. He turned to his wife and asked, "Why are we having beans again tonight?" She thought for a moment and said, "I just don't understand you. You liked beans on Monday, Tuesday, Wednesday, Thursday, and Friday. Now suddenly on Saturday you don't like them anymore. I just don't understand you."
—Walter Lambert, "Kinfolks and Custard Pie"
—-
Soup beans and cornbread was a common meal for us when I was a child. I remember the beans being better the next day when we had them for leftovers, but I don't ever remember eating them for an entire week.
One of my best friends grew up in Graham County. She said her mother would fix a big pot of soup beans and they'ed eat them till they were gone. She said she loved them the first few days, but by the end of the week when they were thick and mushy she couldn't stand them.
Tipper
Subscribe for FREE and get a daily dose of Appalachia in your inbox