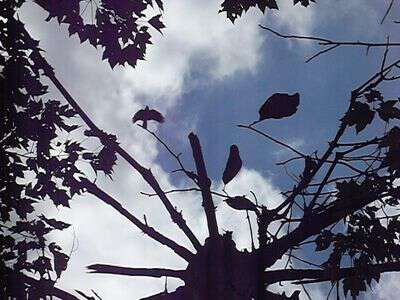 From the minute I hatched the idea for The Week Of the Crow-I started trying to get photos of the crows that fly about my mountain holler and the road that leads to it. You've already seen a few of them-so you'll believe me when I say-not one good picture have I gotten. It's like it was a game-they knew the minute I turned my camera in their direction and immediately took off for distant lands only to circle back when I was facing the other way.
In the back of my mind-I knew I had access to a secret weapon for getting the clever crows to come closer. Finally last weekend I decided it was time to call my brother Steve.
Steve has a crow calling machine. Its really just a tape deck with a large speaker and tapes filled with crow sounds. When I asked to borrow the caller-Steve said "You can borrow it-but you'll probably have to go somewhere down the road to get them to come to you, the ones around here have about figured it out." I wasn't interested in going down the road-I wanted to go behind the house. But I went and got the caller anyway.
As soon as I got home with it The Deer Hunter said "You know you won't get any crows to come to you around here don't you? Why don't you go over to Jackie's house. Don't she have a lot of fields around her place?" I didn't like his remark any better than I did Steve's.
A few hours later I decided if I was going to try the caller it was now or never. I decided I was going up on my ridge-you know the one I dragged Chitter and Chatter up when they were just little chubby munchkins.
Before I left the house, The Deer Hunter told me I'd never get them to come if I didn't wear camouflage. Like I have camouflage. I did wear one of his shirts-and Steve had left some sort of camo netting in the caller so I wrapped that around my head.
Steve also warned me the caller was heavy and as I pulled myself up the slick slope of pine needles I thought "he sure was right about the weight and I'm sure he was right about me not being able to call any crows too."
The Pine Beetles have reeked havoc on the pines that grow on the ridges around our house. Each time I venture out in the woods I find another dead one has been brought down by a recent wind.
Once I reached the top of the ridge I saw the top of a pine had come down, leaving a jagged snag sticking up in the sky. I figured if any crows did come-maybe they'd land on the snag. I set the caller off to the side of the snag and settled down near the top portion of the pine that had come down.
I must admit as I sat there with the caller making all sorts of racket I felt pretty silly. Mostly I was mad at myself, for waiting till the last minute to try and get some good photos for The Week Of The Crow.
I had been sitting there stewing a good 15 minutes when I begin to hear something. About the time I heard it-I begin to see the crows-they were EVERYWHERE! It was like a whole tribe of crows had come to investigate what I was doing; they just kept speeding over the trees like clouds moving in a thunderstorm; and a few even darted down to where I was like lightning bolts coming to ground but gone before you know it.
I got so shook up and excited that I totally forgot about my camera and I didn't even realize I had laid down on the ground-completely on my back-till I remembered it.
As I laid there on my back I felt like I was in an old fairy tale-you know something like Tipper and the Crows-where Tipper finds herself in dire straits for not being a good little girl and then in the end a friendly murder of crows help her come out the other side of her woes victorious in the end.
I still didn't get any good photos-but I did get a good video. I only wish you could have experienced it first hand like I did. Maybe you can pretend you're lying on a high mountain ridge with leaves and sticks poking your skin while pine needles tickle your ears. (don't forget to stop the player in the top right of this page before you start the video)
So how did you like it? It was so very neat-I'm still excited about it! Of course I walked home feeling so proud of myself-I couldn't wait to brag to Steve and The Deer Hunter that I got the crows to come. The Deer Hunter was waiting for me on the back deck-I didn't have to tell him-he'd been watching the crows boil through the sky over the ridge.
I told The Deer Hunter the Crows didn't recognize me-that's why I was successful. He laughed at me. I'm convinced they come because they knew I wasn't Steve or maybe they just knew I needed them.
Tipper
p.s. Richard Moore left a link on yesterday's post about crows being able to recognize human faces-go here to read it. And be sure to drop back by tomorrow for more crow!