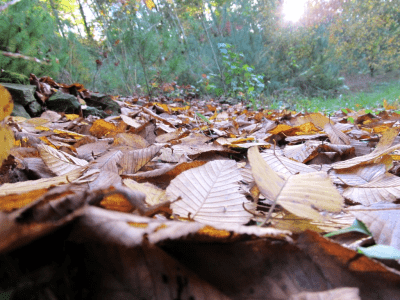 I grew up hearing the old gospel song Fallen Leaves. Uncle Henry Truett was rather well known in our area for singing it. I guess you could say it was his signature song. I remember Uncle Henry came to see Papaw Wade Wilson in the days before he died. As Papaw lay in his sickbed, Uncle Henry belted out Fallen Leaves right there with no music, just singing from his heart in an effort to comfort Papaw Wade.
Uncle Henry Truett was Granny Gazzie Jenkins' brother. He lived just below her and always made it up to say a hearty hello to everyone gathered around on Sunday afternoons.
Louis Marshall Jones, better known as Grandpa Jones wrote Fallen Leaves. Paul said he read or heard Jones say he was inspired to write the song after attending a funeral in the fall of the year with leaves blowing about during the graveside service.
The lyrics to the song are simple, but really profound and meaningful if you give the song your full attention. The Blind Pig Gang's been doing Fallen Leaves for a good long while now, I thought you might enjoy hearing us.
Hope you enjoyed the song!
Tipper