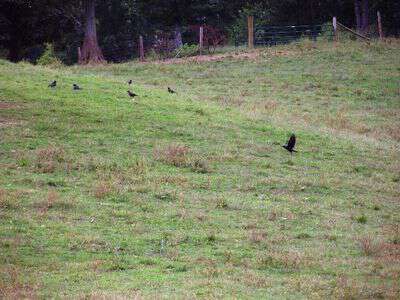 The way Crows interact with each other fascinates me. They have a tight family unit-and within that unit each Crow has a job to do.
One of the Crows from the unit acts as a guard or sentry-watching the perimeter while the rest of the family eats. If need be-the guard sends out a warning call to the rest of the family. I don't know if it's true-but someone told me-if the guard doesn't do his duty-the rest of the crows gang up on him and take him out of the family unit-if you know what I mean.
Pap says when Crows raise their young-they meet in large groups to teach the young birds how to fly-and other things. He said if you ever get a chance to see or hear this process-it is amazing.
One time my Uncle Henry was deerhunting-as he sat in his stand, he watched a group of Crows perform a very peculiar routine. He said it was the oddest thing he had ever seen-the Crows almost seemed to be performing a military formation-flying in and out-landing all in a row-turning one at a time before taking off for the next maneuver.
Even though Crows are my favorite bird-I've never really seen them do much of anything except fly through the pastures-and eat roadkill on the road where I live…until this past weekend. Come back tomorrow and I'll tell you about my encounter with a murder of Crows.
Tipper
Appalachia Through My Eyes – A series of photographs from my life in Southern Appalachia.