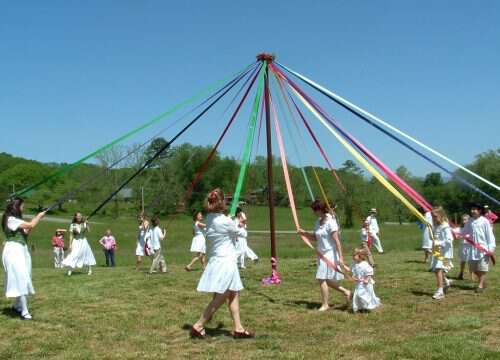 The tradition of dancing around the Maypole in celebration dates back to the middle ages. In the beginning-folks would bring in trees from the forest to decorate-as time went by many towns permanently erected maypoles to celebrate the first day of May.
Typically the celebration-occurs on a beautiful spring day-sun shinning, ribbons waving, air warming. This year-and last year-Mother Nature decided the weather would be slightly different-as in a blinding rain storm.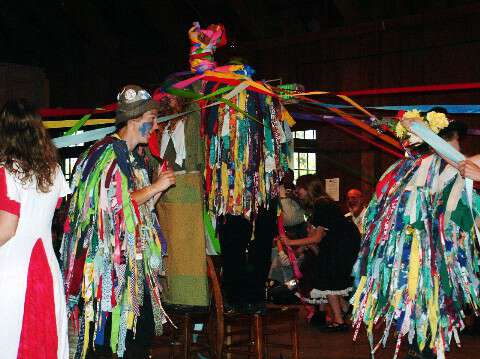 With a show must go on attitude-both soggy May Day's have resulted in a human Maypole!
As the colorful band played… the dancing began. The costumes were varied and colorful. And the human Maypole-worked out just fine!
The Maypole Celebration ended with everyone dancing Sellinger's Round-a circle dance.
One of my favorite parts of the day-singing the May Day Carol. The words are so pretty-simple-and meaningful:
I've been a-wandring all the night, And the best part of the day. Now I'm returning home again. I bring you a branch of May.
A branch of May, my love, I say As at your door I stand; It's nothing but a sprout, but it's well budded out By the work of the Lord's own hand.
My song is done and I must be gone, I can no longer stay; God bless you all, both great and small And send you a joyful May.
Kentucky Version from the Ritchie Family of Perry County, KY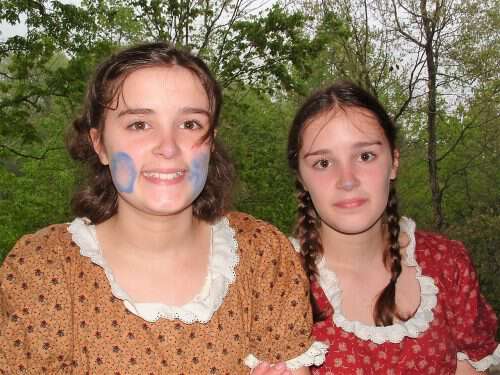 Even with the rain-it was a wonderful Maypole Celebration. Chitter and Chatter came home with blue marks on their faces-do any of you know what they mean?
I wish you all a joyful May!
Tipper