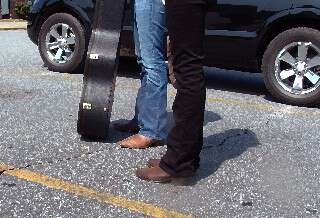 Time for this month's Appalachian Vocabulary Test-take it and see how you do.
Never mind
Nice Turned
Nary
Nature
Nubin
Never mind: makes no difference; doesn't matter, forget about it. "I asked you to pick up the clothes but never mind I'll do it myself!" or "It makes no never mind to me just do it the way you think it ought to be done."
Nice turned: well mannered, polite, nice. "I wish she'd a stayed with that first beau she had, he was nice turned and had money too." or "I always knew that boy would be something big, he has such a nice turn."
Nary: none; not one. "He said he was going to school but he didn't have nary a book with him. If you ask me he was headed to the creek to go fishing."
Nature: naturally inclined. "I knew it would upset Mother. She has such a nervous nature it don't take much to send her into a fit of bawling."
Nubin: small ear of corn. "I always take the nubins and make pickled corn on the cob. That way they fit in the jar better."
I'm familiar with all of this month's words-and still hear them on a regular basis. How did you do on the test? Hope you'll leave me a comment and let me know.
Tipper