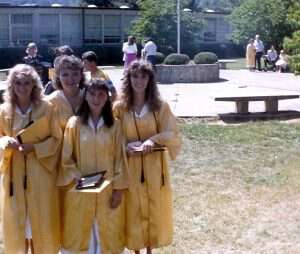 Pam, Tracy, Angie, Tipper – Graduation at MHS 1988 
Somewhere between adolescence and adulthood memory seems to bury many rites of passage. As Chitter and Chatter have grown up, I've rediscovered things like: the pure joy of playing in the creek, making mud pies, those hand clapping rhymes like Ms. Mary Mack Mack Mack all dressed in black black black, middle school crushes and more recently high school drama.
When I hear a song from childhood it always make me feel young. Like I'm a little skinny shy girl, instead of a Momma of two teenage daughters.
When I'm outside on a warm summer night hearing the katydids, seeing the lightning bugs, if I close my eyes-I'm immediately taken back to a time of playing hide-n-seek, telling ghost stories, and walking home in the dark to a house lit up with love.
When I meet up with old friends-once we get to talking and reminiscing-it's like I feel the years flying past at warp speed until we're left standing there like we've never grown up.
Today's Pickin & Grinnin In the Kitchen Spot features a song written, by Paul, I'll Be Young.
I hope you enjoyed Paul's song. Please, leave a comment and tell me what makes you "Be Young".
Tipper