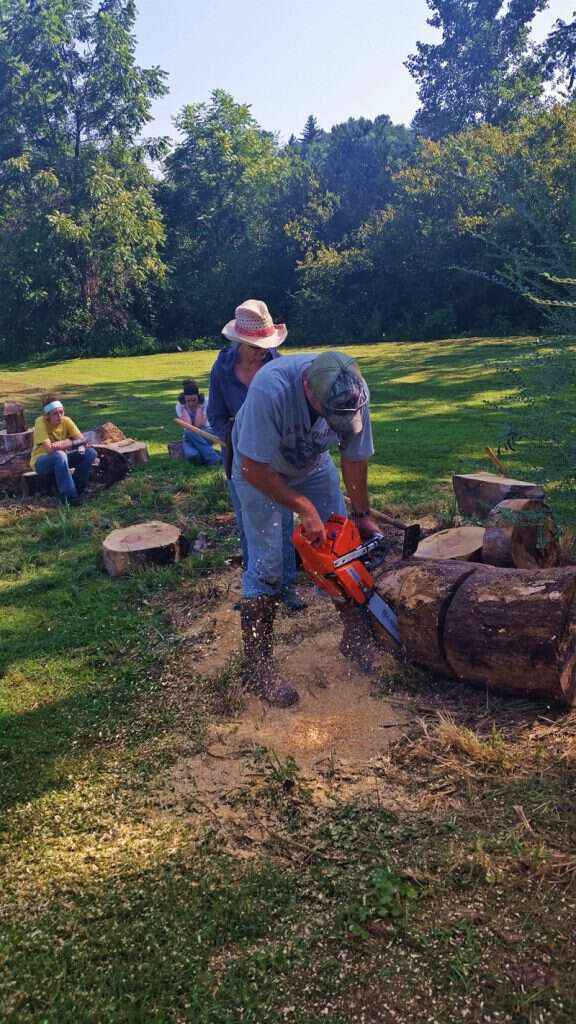 The Blind Pig family spent Labor Day laboring.
The girls have several landscaping jobs in Brasstown. They maintain the yard for the folks and do everything from mowing/weed-eating to planting. Their good friend and mentor Tim Ryan played a role in the girls getting the jobs. They worked for Tim a few years back on larger landscaping projects. He recommended them for one of the maintaining jobs and that lead to the others. The girls enjoyed having flexible jobs that allowed them to concentrate on their college studies and once they graduated they kept the jobs.
The girls stay busy with their various part-time jobs, their own entrepreneurial pursuits, and of course their music. Add in the need to stay with Granny during her first days at home from the hospital and their filled plate over flowed.
The Deer Hunter and I volunteered to help them get one of their jobs out of the way before the owner came for a visit. It's a beautiful old house in a pretty spot…a pretty shaded spot. To say the house is in the woods is an understatement. The woods come right up to the edges and all those trees make a huge mess. Fallen leaves, sticks, and bark everywhere. So there were a blue million sticks to pick up not to mention the mowing, weed-eating, trimming, leave blowing, and sweeping.
By the time we finished I was exhausted, but I was also amazed and more than a little proud. As The Deer Hunter and I sat and rested for a minute I said "I can't believe they do all this by themselves, that they've been doing it all this time by themselves." The Deer Hunter had been to the house before when he was dropping off stuff for the girls. He said "This ain't nothing you should have seen how overgrown it was when they first started taking care of it."
Once we finished we headed over to Miss Cindy's to help her dispose of a tree that The Deer Hunter cut well over a year ago. He kept meaning to go back and clean up the big pieces, but first one thing and then another kept him from getting it done.
We got it done by working together. The Deer Hunter sawed while Miss Cindy, the girls, and I moved the wood.
I did more work on Labor Day than I've done all summer long. I was so tired, but it was a good tired-does that make sense?
There is something so rewarding about using your hands, feet, back, and entire body along with your brain to get a job completed. Most days I sit at a desk and while I'm working the entire time, there isn't the same satisfaction that comes from hands-on phyiscal work like we did on Labor Day.
Tipper