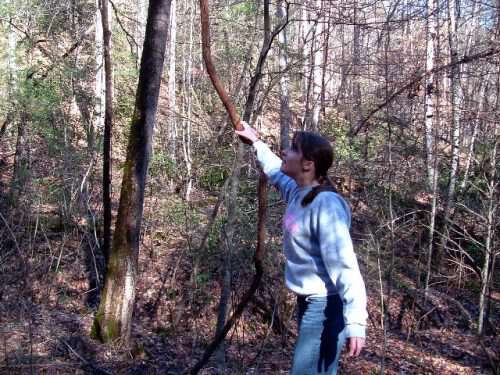 You can see what's about to happen. She's thinking it over-deciding if it'll hold her weight.
Have you ever swung on a grapevine? When I was little we used too.
The best ones we ever found for swinging were between here and Pine Log in the Coleman Gap. There was a good trail. An old road bed led the way, it was easy to follow-even for us kids. The grapevines were on the high side of the road bed allowing us to swing out across the road into the trees beyond.
Days of wonderment: walking to swing, fussing along the way, arguing over some insignificant fact one of us brought up, and listening to each others tales. We always knew the way home would be filled with stories of our daring swings and a fuss over who swung the farthest and who went the highest.
Tipper
Appalachia Through My Eyes – A series of photographs from my life in Southern Appalachia.