Am I the only one who's noticed prices at the grocery store are creeping higher and higher? After buying groceries this week-I decided we should re-visit the make do cooking recipes we were discussing earlier this year.
This past winter was the first time I had today's recipe. An older lady I so some work for was making it for her supper-she made me try a bite and I was surprised that the mixture was quite tasty. After that another friend told me she was familiar with the dish too. Then low and behold a Blind Pig reader, Ethel, told me the following story about the make do recipe.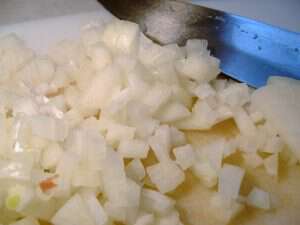 Grandma's Cooking by Ethel Mertz
I was taught to make this dish when I was a bride thirty years ago. My husband lost his job and we moved in with his grandparents shortly after our wedding.
Grandpa was a kind, quiet man. Grandma kicked butt and took names! They were in their late sixties when I met them. Grandpa was retired but still active, Grandma worked nights as a school janitor. They were both raised in the coal fields of West Virginia and knew all about making do. I don't remember what year they were married, but it seems like Grandma always worked outside the home to help support the family. During the Depression she worked in a little diner in West Virginia where this recipe was on the menu. I don't remember her calling the dish by any particular name, so it will be interesting to see if other folks had a name for it.
Grandma, like most women of her generation, was an amazing cook. She didn't need to follow a recipe or measure anything. As a result of Grandma's cooking style, the following are approximations. Feel free to adjust the ingredients to suit your taste:
1 pound ground beef
1/2 c. diced onion
1 can baked beans
1 T. granulated sugar (I like it sweeter)
Brown the ground beef and onions, drain fat. Add beans and sugar, stir to combine. Heat through. Serve on buns.
Quick, inexpensive and surprisingly tasty, it's easy to see why this was a hit at the diner. Grandma said she made this at home a lot too, and served it with green beans – to which she always added a dab of bacon fat from the little crock she kept on the back of the stove. It was a fast, economical meal when she was so busy working and raising five children.
——————————–
The only difference between Ethel's recipe and my friends-they used pork-n-beans instead of baked beans. Have you ever made or ate this? Did it have a name?
Tipper