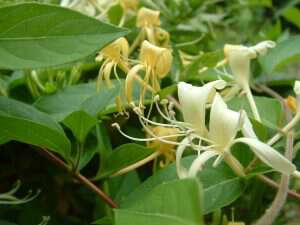 The trail between our house and Pap's smells so sweet I'd like to take a chair and sit in the middle of the road.
Earlier this year as we helped Granny and Pap get started on the garden at their house-one of the projects was to pull the honeysuckle from Granny's red bud tree. They pulled-they sawed-and finally they tied one end of a rope around a big chunk of it and the other end to the back of The Deer Hunter's truck. When he laid the gas to it for a moment it seemed the whole tree would come down, but the honeysuckle gave up it's hold on the red bud and down the road it went behind the truck.
I thought "Oh no what if he got all the honeysuckle." See I didn't want to miss that feeling I get every year when the honeysuckle around Pap's house blooms. I stand still and give the air a good sniff like a hound dog and as I look at the blooms and smell the sweet scent I just know the world will be o.k. one way or another-how could it not be in the face of honeysuckle?
Tipper
Appalachia Through My Eyes – A series of photographs from my life in Southern Appalachia.