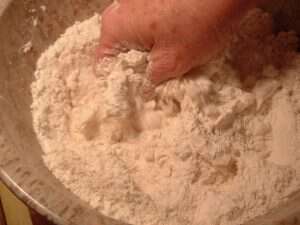 A while back I showed you how I make biscuits-today I'm going to show you how Granny makes hers.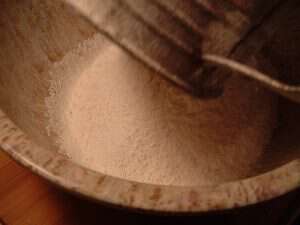 First Granny sifts about 2 cups of self rising white lily flour into her bowl.
Then she grabs a hunk of lard with her fingers and adds it to the flour. She uses the homemade lard her and Pap make till it runs out-then till their next rendering, she has to use store bought lard.
Granny works the lard through the flour with her fingers-there is a real art to this step. I've tried and tried and I always end up with a sticky mess.
She adds enough milk to make a soft dough.
Granny pinches off pieces of the dough and pats out her biscuits by hand. She places them on a greased pan and bakes them at 450 degrees until they are light golden brown.
Granny's biscuits are delicious when they are piping hot straight from the oven-but they're also good later in the day when you find them in a bowl on either the kitchen table or the back of the stove. Come back in a few days and I'll show you my favorite thing to eat on top of Granny's biscuits.
Tipper