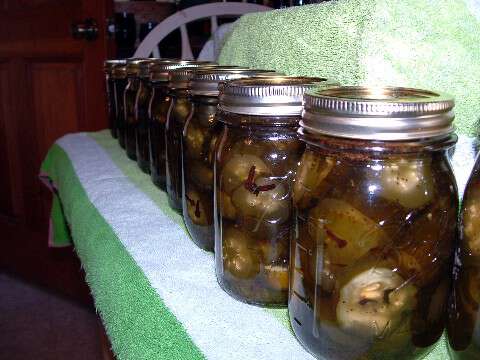 14 Day Pickles are my favorite. The best sweet pickle I've ever eaten. The recipe I use is from The Deer Hunter's family-it's been passed down through the generations. We make them every year-I couldn't imagine potato salad or tuna fish without the addition of 14 day pickles-they're that good-sweet and really crisp.
When the signs return to the right place-I'll be making a run of 14 day pickles. The process is long-14 days-but not hard. I thought some of you might be interested in making them with me. The day I'll be starting-is August 10th-when the signs will be in the head. The ingredients needed:
3 gallon crock
3 dozen small cucumbers
1 pint of salt (not iodized)
water
Alum (you can find it with the spices in the grocery store)
Prepared Horse Radish
3 pints of Apple Cider Vinegar
5 quarts of sugar
Cinnamon Sticks-6 to 8
2 tablespoons of whole cloves
2 tablespoons of celery seeds
The first step is the easiest-the cucumbers soak for a week in a brine. After that the steps take place daily. If you're interested-I'll start posting the process on August 10th-and post each additional step on the day I do it. If you haven't already-you can subscribe to the Blind Pig (upper left corner under my picture) and you'll get an email to remind you to do each step of the process.
I realize many folks today-don't have crocks. I've been researching to see if you could use something else-like a food grade plastic container. Many folks do use food grade plastic containers with successful results-but since I've never personally used one for this recipe I can't say for sure if it would work. Here are some links about using food grade plastic containers-I'll let you be the judge:
http://www.pickyourown.org/pickles_oldfashionedbarrel.htm
http://farmgal.tripod.com/PicklesRelish.html
http://stason.org/TULARC/food/preserving/4-2-2-What-s-a-non-reactive-container.html
If you don't have a crock-but would like to buy one-I suggest you look at your local hardware or feed store. Sometimes you can find them at thrift or antique stores-just remember if you buy a used one-you should make sure it doesn't have any cracks. We've found out the hard way-if the crock has a hair line crack-you can't see it-but the liquid in your pickles will find it and leak out.
If you decide to be part of the Pickle Along-I know you'll be glad when you taste the sweet crunchy goodness of the 14 Day Pickles.
Tipper
p.s. A little after 9:00 Saturday morning-we had a 3.2 Earthquake. It was centered on the Tennessee North Carolina border. Me and the girls were in the same room-we all ran outside to see what it was-by then it was over. Seemed I felt the shaking was mostly above us-in the roof. No damages in Tennessee or North Carolina that I'm aware of. Did any of you who live near by feel it too?