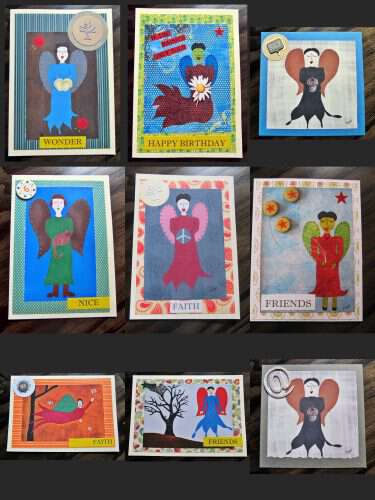 I haven't painted a folkart piece in I don't know when. Once I went back to work full time it seemed like my painting time kept getting narrower and narrower until it completely faded away.
Even though most of the paintings above sold a long time ago, thanks to technology, I'm still able to use the images as prints. I just added a variety of handmade greeting cards to the Blind Pig & the Acorn Etsy Shop most of which are made with prints of my folkart paintings. (you can click on the photo above for a better view of some of the cards)
See the very first card in the photo-that says Wonder? Let me tell you a story about the painting. It's titled Wilson and Judy. Wilson and Judy are the acorns the angel is holding.
Several years ago, after watching the movie Castaway, Chatter decided she needed a "pet" named Wilson too. For some unknown reason the child picked an acorn (a small acorn-Wilson is the little one in the photo). Do you know how easy it is to lose an acorn? Well I can tell you-very easy for a busy little girl.
She was constantly losing Wilson and constantly crying for someone to find him. You know who the someone was-me. I finally found her this little black box, thinking at least the box would be easier to find than the acorn.
Her cousin, and fellow Indian Princess, decided Wilson was lonely-so she found Judy (the big acorn) for Chatter and even made Judy a bed out of a nut hull. Thankfully Judy fit in the box with Wilson-bed and all.
Chatter continued misplacing the box-now losing 2 acorns. The last time she lost the box-it took 3 days and dismantling the back of the couch before we found it. After that, I convinced Chatter to keep the box on the shelf beside her bed for safekeeping.
I was inspired to paint the folkart angel with the acorns one day when I was thinking of how aggravated I got about something as small as 2 acorns-something that brought Chatter great joy. Looking back, I wish I had encouraged her imagination-even got Granny to crochet them a bed or a little acorn sweater. Now Chatter has out grown her need for Wilson and Judy. The acorns still reside somewhere in her college girl room and the painting Wilson and Judy hangs in my bedroom.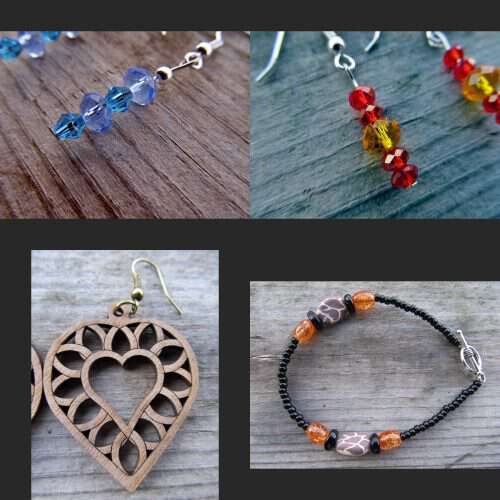 Chitter made jewelry like crazy during the month she had off from college. I convinced her to let me add some of it to my shop-you know Valentine's Day is just around the corner. You can find it in Chitter's Jewelry Section. If you'd like to see the Blind Pig & the Acorn Etsy Shop in it's entirety go here.
Tipper