Today's guest post was written by John Trout. John hosts an outstanding radio show-Traditional Ties on WYEP FM 91.3 Pittsburgh PA. John started his great show way back in 1985, and it's been a huge hit ever since.
When I first approached John about writing a guest post for me, I told him to pick his topic-since I was sure he knew more about the history and importance of music in Appalachia than I did. A few days later, John told me he'd like to write about one of the most remarkable men he knew-Hoyt "Slim" Bryant-and the importance his amazing musical career had on traditional country and bluegrass music. When John wrote the piece below-Slim Bryant was 101 years old-sadly he died 2 days after John sent me the piece.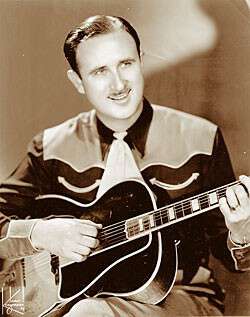 (photo by Vintage Guitar)
Hoyt "Slim" Bryant by John Trout
The musical heritage of the western Pennsylvania area has been greatly influenced by traditional country and bluegrass artists. During my formative years, the late 1940s and 1950s it was typical for county and community fairs as well as area amusement parks to feature artists from the nearby, Worlds Original Jamboree in Wheeling West Virginia.
During that period you might see Hawkshaw Hawkins, The Osborne Brothers, Jimmy Martin, Wilma Lee & Stoney Cooper or Doc & Chickie Williams at at your local event.
One such entertainer Hoyt "Slim" Bryant, came to Pittsburgh in 1940 to do a daily show for KDKA radio. Unlike many artists, who would move on after the demand for public appearances faded in a year or two, Slim's radio show continued until 1959 at KDKA. The early morning show was music sandwiched between news and farm reports.
Slim and his band, The Wildcats appeared on Pittsburgh's first live TV broadcast in 1949. The station was WDTV, later to become KDKA TV.
Slim, an Atlanta native had a distinguished musical career before arriving in Pittsburgh. He was originally a member of Clayton McMichen and the Georgia Wildcats, leaving in 1940 to come to Pittsburgh.
Also a songwriter his "Mother the Queen of My Heart," was recorded by Jimmy Rodgers in 1932, Slim played on that recording and is the last surviving artist to have recorded with Rodgers.
Slim's music was progressive for it's time taking the music in a jazzy direction. "Music with a beat" is Bryant's description. Band members in addition to Slim on lead vocal and his 1936 Gibson L5 guitar included; Ken Newton, fiddle; Jerry Wallace, banjo; Al Azzaro, accordion; and brother Raymond 'Loppy' Bryant, bass and vocals. All but Slim are deceased.
Due to arthritis he doesn't play much any more, but only gave up teaching guitar a few years ago. In 2007, Slim issued his first CD, 31 of his vintage recordings. At the age of 100 in 2008, he renewed his driver's license, he limits his driving to his neighborhood during daylight hours.
Asked to comment on today's country music, he's been quoted as saying, "It's all Rock and Roll, no guitar player in his right mind would buy a guitar with three pickups."
————————————–
After reading John's interesting post-one can see both the influence and the longevity of Slim Bryant's musical career. I like his quote about today's country music-cause it's very similar to Pap's view on the subject.
To find out more about John Trout-check out his blog John Trout's Bluegrass World. And if you can find the time-I highly encourage you to check out his radio show Traditional Ties-I know you'll be glad you did.
Tipper