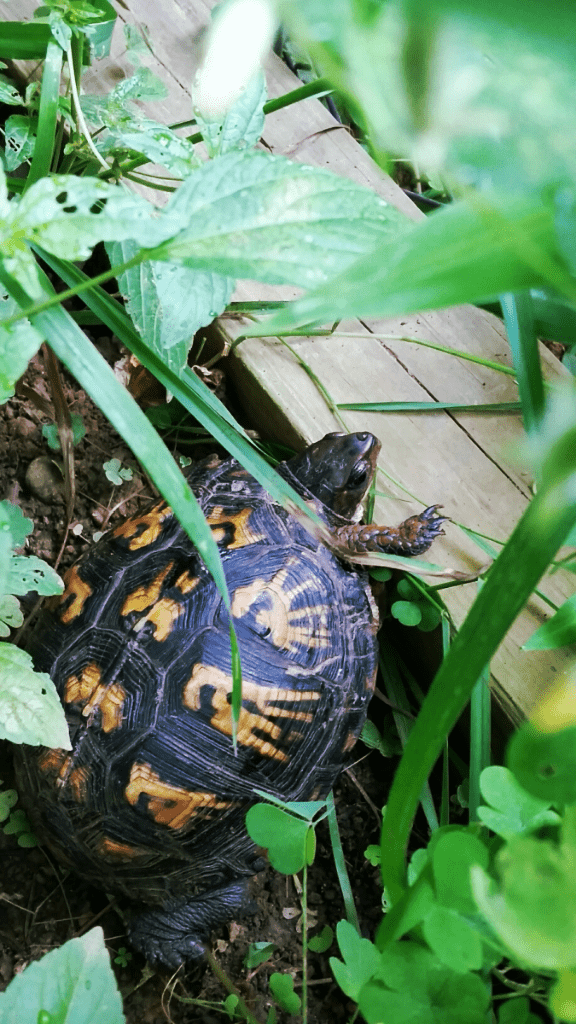 Every time it rains Granny's phone gets filled with static. It's been doing that for years. Pap called and complained about it way back and was told their phone line was one of the oldest in the county and there were no plans to replace it anytime soon. We no longer have a land line and our cell signal is more than a little patchy. All that together makes talking to Granny on the phone a nightmare.
Granny called Chitter yesterday all excited about something, but Chitter couldn't understand what in the world she was talking about. A quick trip down the hill revealed the cause of Granny's excitement…a terrapin on the back porch.
Terrapin is one of the words I loved to hear Pap say. Maybe I say it the same way. At least I hope I do.
My niece used to catch her a terrapin for a pet at least once a summer. She'd build a little pen of sorts to keep it in and try to feed it grass or vegetable peelings. After a few days she'd grow tired of playing with it and let it go at the edge of the woods. Before she turned it loose, she'd paint a small streak on it's shell with finger nail polish so that she'd know if it ever came back to her.
One year we saw a pink streaked terrapin way up the creek. Knowing it was one of hers I said "It's probably making tracks for Georgia hoping it's never loved to death by a skinny little girl with big brown eyes again."
Tipper