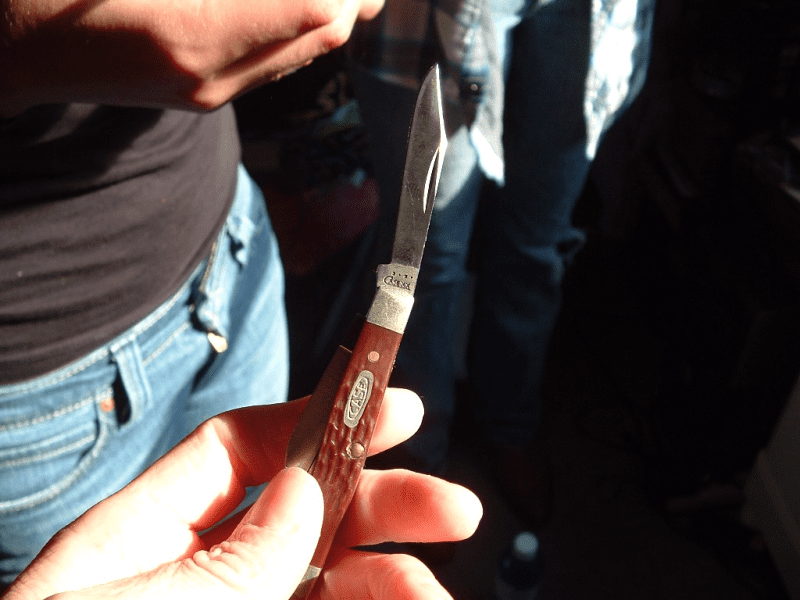 I've been around pocket knives my entire life. Pap always said he felt naked without his knife in his pocket. The Deer Hunter says he feels the same way.
Both the girls carry knives and even I carry a pocket knife in my pocketbook that The Deer Hunter bought for me when we were still dating.
There's a bone handled Case pocket knife laying along the studs inside a wall in one of the back bedrooms at Granny and Pap's house.
When Pap was sheet-rocking the back bedroom he closed up his knife in the wall. The entire wall was covered before he realized the knife was laying alongside one of the studs behind the sheet-rock. Paul and I used to dream about figuring out exactly where it was laying so that we could cut open the wall and get the knife to surprise Pap.
More times than I can count I've seen men stand around and admire someone's new knife. You've probably seen the same thing.
Have you ever noticed that after the looking is done the knife is handed back to the owner with the blade still open?
Whoever opens the knife must also shut the knife or bad luck is sure to follow. In other words if someone hands you their knife you have to return it in the same state they handed it to you-either shut or closed.
Another piece of folklore I've heard is if you give someone a knife you should also give them a penny so that they can "buy" it from you, otherwise the gift of the knife will cut the friendship.
Two more pieces of knife folklore:
If you drop a knife a visitor will soon arrive.
Place a sharp knife under the bed of a woman in labor to help cut the pain.
Tipper