Today's guest post was written by Garland Davis.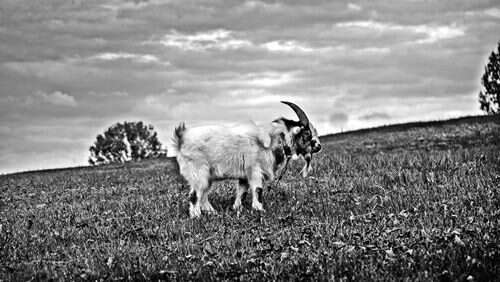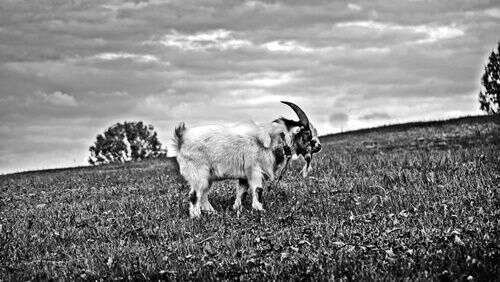 There was the incident of the Billy goat. The doctor had prescribed goat's milk for my grandmother and my dad came home one Saturday morning with three or four nanny goats and a Billy. Look up worthless in the dictionary and you will see a picture of a Billy goat. I can tell you, they really get mad if you cut their beards off. A whippin' for that one. But that isn't the story I am trying to tell here.
I had seen a TV show where the hero roped a wild bull and saved the damsel. I had a rope which I fashioned into a lasso. I was roping anything I could. My brothers went along for a while. They would run and I would chase them swinging my loop and try to rope them. Finally, one of them said, "Why don't you try to catch the Billy goat."
Now this seemed like a good idea to me. I chased after the goat trying to swing the loop. He would either outrun me or turn and chase me. I came up with a brilliant plan. I would tie the rope to a fence post and my brothers could chase ole Billy past me and I would rope him. Fantastic plan!
They got ole Billy up to a dead run and as he approached I swung the loop and floated it out toward his head. Now I tell you, neither Roy Rogers, Gene Autry, nor Hopalong Cassidy ever threw a more perfect loop. Right over ole Billy's head. He hit the end of that rope at a dead run; his feet flew out from under him; bam he hit the ground and didn't move. Stone cold dead.
We knew we were dead too when daddy found out. I gathered the rope and hid it in the barn. We ran off and volunteered to hoe mama's garden, trying to build up as much good will as possible before the storm hit.
Right on time daddy came home from work. We had a routine, as soon as he got home we would go to the barn, milk the cow and goats, clean the stalls and feed them and the pigs. We dreaded going to the barn. Dad was in a hurry as usual and rushed us toward our doom. As we turned the corner of the barn, we saw ole Billy standing out there eating grass. I was suddenly convinced that prayers were answered and vowed to be more attentive in Sunday School.
—————-
I hope you enjoyed Garland's story as much as I did.
Tipper
Subscribe for FREE and get a daily dose of Appalachia in your inbox