Today's post was written by Paul.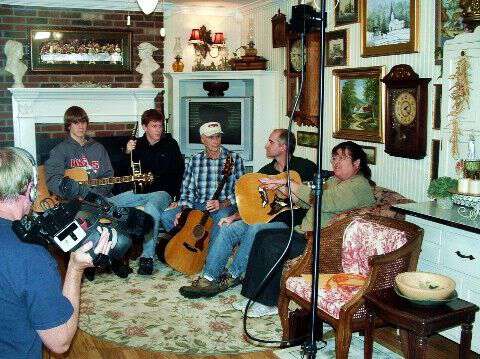 Day of filming for Carolina Crafting
Back around 2008, Jackie Jentzsch asked us to appear on her show Carolina Crafting. Special thanks to her and Cutter Webcasts for allowing us to re-use the video in this post. We thought some of you might enjoy seeing it.
The Carolina Crafting website doesn't exist now, but the Carolina Crafting store is still running and is located near the intersection of US Hwy 74 and the Blairsville Hwy (19/129) in Murphy, NC. Jackie has a lot of wonderful things in her shop, including the latest CD of the Pressley Girls.
Cutter Media is based out of Florida, and we believe it's still in operation. Our show aired as episode 25. You can watch some of the other episodes, which feature cooking, art, crafting, and interesting interviews by going here: https://www.youtube.com/channel/UC4BU…
We got a kick out of watching this video from years ago–in seeing how young and stoic my nephews were, especially Mark (Mandolin Man) and by seeing how dark my hair was and how much there was of it! 🙂 It's also neat that both songs performed were originals, the first one by Pap and the second one by me.
The first song, "Angels of Mercy" was recorded on the Wilson Bros. CD "Today, If You Will Hear His Voice" and is also featured on our most recent gospel CD, "Shepherd of My Soul." We hope to publish "I'll Be Young" on a Blind Pig and the Acorn CD in the future.
As this episode concludes, you can also hear Mark and I playing "Blackberry Blossom," which we did that day. Jackie also had footage of us doing "Joy to the World." We're still searching for it, and if we can find it, we'll post it for Christmas. Thanks for watching!
Hope you enjoyed Paul's post and the show. I also hope each of you have a blessed Sunday.
Tipper
Subscribe for FREE and get a daily dose of Appalachia in your inbox