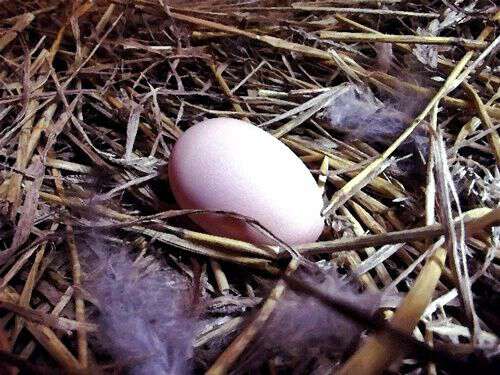 Eggs: The Almost Perfect Food
"In the mountains, eggs were almost as important to our diet as milk and bread. Our family ate eggs just about every day. I hated it that the chickens were allowed to run loose on the place. But the alternative was cooping them up and buying chicken feed. There was no money for this, and we had to let them roam around eating bugs, grass, sand, seeds, and drinking from the spring where the cattle watered. But because of the rich and varied diet, they laid eggs with yolks the color of goldenrod, and the eggs tasted fresh and good. There is no comparison to my way of thinking between country-fresh and supermarket eggs.
Because the chickens were not penned in they made free use of our yard. We tried to keep them off the front porch and out of the yard as much as possible. Our yard was bone-hard and only sprouted grass here and there in green clumps. I cherished the grass and yearned to have it grow and look like the velvet-smooth lawns I saw pictured in books-but the chickens always ate it clean.
We gathered green moss from logs and stumps, and lined box nests with it but the chickens, in their freedom, preferred to hide their eggs. I thought it amusing to watch a wily old hen wander about the place, pretending to squat and lay her egg a dozen places until she could wait no longer and quickly trotted to her hidden nest. After she laid the egg, however, she cackled loudly, telling the world of her accomplishment."
Sidney Saylor Farr – "More Than Moonshine"
——–
Unlike the chickens from Farr's childhood, ours are penned up. With so many dogs running lose in the holler, not to mention the varmints in the woods, we don't have much of a choice in the matter. Along with their chicken feed we supply them with lots of fresh green things to eat. I totally agree with Farr in the notion that fresh eggs are better than the ones you pick up at the grocery store.
Tipper
Subscribe for FREE and get a daily dose of Appalachia in your inbox