Today's guest post was written by Ethelene Dyer Jones.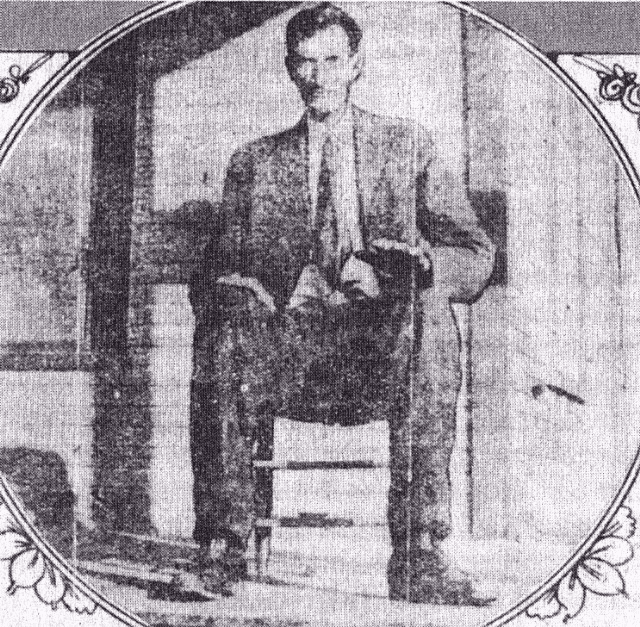 Herman Davenport, A Champion Patter written by Ethelene Dyer Jones
I'm not sure if the old mountain art of hand-patting to music is vanishing from our hills. Herman Davenport (March 10, 1881- November 5, 1964), sixth of eleven children of Adam and Margaret Ashworth Davenport, was a "patter," and was named Georgia's Champion Patter in 1924. I am grateful to the late Susie Hunt Davenport, a wonderful friend and a daughter of the Champion Patter, who shared the story of her father's award and techniques in "patting" in our Facets of Fannin history book. I give you some highlights of his techniques here, and the story of how his talent earned him fame.
The Atlanta Journal newspaper of October 19, 1924 published a feature article written by G. G. Ward on Herman Davenport and his abilities as a Patter. The article tells of how Ward and others went to the farm home of Herman Davenport in the fall of 1924 where "his little house overlooked a dim gulf of cornfields and woods rolling away to great distant mountians." The guests waited, picked up ripe red plums, and then when Davenport had cleaned up, shaved and dressed to go to the "big auditorium in the city" they took him where he was to pat for quite a large audience, and join in competition with other patters. There many heard and saw this unusual and talented man.
Mr. Ward described Herman Davenport as "preparing to pat." He sat on the stage through some other music, in a straight chair, "knees straight forward, legs parallel, looking soberly ahead, sleeves rolled up, collar off". Then when it was his time to perform, there were about four rhythmic pops, as hands hit knees, over his head, anywhere, and he had caught this rhythm. Then he proceeded to pat, on his head, his hands, his knees, his feet, all in very rhythmic syncopation, not missing a beat.
He was a sensation to watch, even more so to hear as he kept up the pace and rhythm of the song. His skill was described partly as gift, for he came through a long line of musicians. His father wrote words and composed music for hymns and songs. His brothers played guitar and fiddle and his brother Sebastian was known as a good dancer. When Herman was a child, he saw an old neighbor, Thad Herron, pat, and the lad yearned to learn from him the rhythm of "patting" so that he could make music with it. Then began the hard part: the constant practicing to perfect his art. He had long slender fingers, supple and bendable, that were described by Mr. Ward as "fluttering about like string banners on a mast."
Mr. Davenport, in explaining his art to the writer, told him: "I concentrate. But I can't follow all the separate licks I make. I just flow from one kind of stroke to another. I am conscious of the change only." It was said of him that "his fingers in their flying never closed awkwardly, but slapped together precisely all the time. He sometimes held his left palm out front and beat it rhythmically with his right. Or he swept one hand across his thigh as if strumming a banjo, while patting his knee with the other hand. With all this talent, he never agreed to become a stage professional, nor did he take any remuneration for his "patting" concerts.
He could make the sound of a galloping horse, and in "The Battle of Manilla" he sounded out the rattle of small arms in battle as well as the roar of cannon. He often patted to the music of the mountain fiddle as "Turkey in the Straw," "Comin' 'Round the Mountain" or other familiar tunes were played. Of this old skill of patting, Herman Davenport was a master.
His daughter, Susie Davenport Hunt, wrote of him: "He kept up his rhythmical patting entertaining young and old with the gift, until his death."
This sixth child of Adam Davenport spent his entire life in Fannin County. He married Minnie Lee Daves, of another early-settlers Fannin family, on September 6, 1915, with J. A. Ammons, justice of the peace, performing their marriage. Their children were Frank, Luther Reid, twins Joe and Jim, and daughter Susie. Both he and his wife were teachers until Minnie Daves Davenport stopped teaching after marriage. They had a farm and raised most of their food on the farm.
Is there anyone in the reading audience who can do the Herman Davenport style of rhythmical patting? Or do you know if the art is still carried on? If so, please let me know. I fear this skill may be passing from our Appalachian lifestyle.
—————
Ethelene's article made me think of folks I've seen perform Hambone acts-it also made me think of the style of folk dancing-Kentucky Running Set-that the girls learned at the Mountain Folk Festival.
I hope you enjoyed Ethelene's interesting guest post as much as I did-and please share any information you may have about patters with me and Ethelene!
Tipper