Today's post was written by Chitter.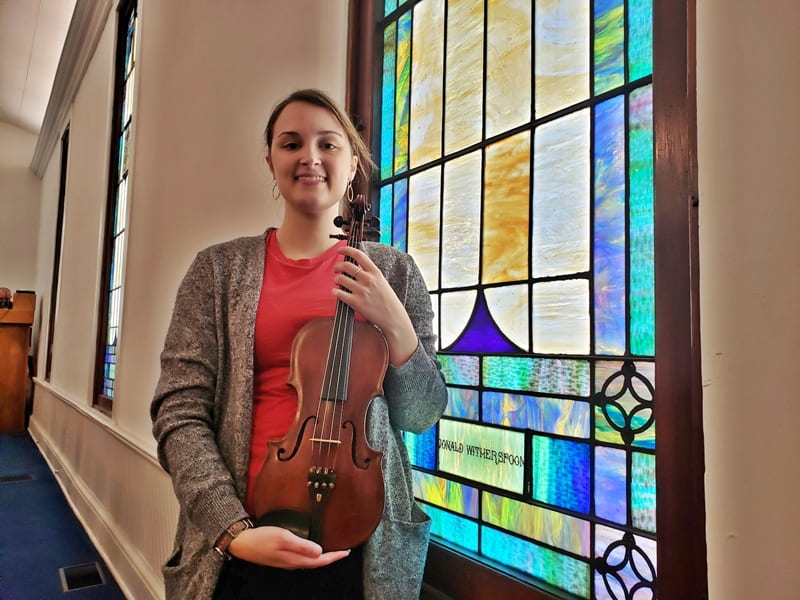 Chitter and her 1863 Fiddle
Music is a permanent fixture in my life. My family is blessed with musical talent, so naturally everywhere I go people want to talk music with me. They like to talk about the good old days when Pap made music.
For as far back as I can remember there has been music in my home.
Some of my first musical memories are vague tones and notes floating through the floor from our basement into my crib when I was a child. Pap and his music friends chose our basement as a jam space, and even though I didn't know it then, those musical memories will last me a lifetime.
As far as instruments go, the fiddle has always interested me and I have played for almost ten years now with the same instrument. Several months back I started wanting something different, something with a bolder richer tone. 
I expressed my feelings to a friend and he said "Just wait. You don't need to find the fiddle, it will find you." He knew I was a little frustrated and impatient, but I was trying my best.
The more I thought about it, the more I realized I could wait. A couple of weeks passed by, and this same friend sent me an email about a fiddle he found for sale. I was so excited I called the gentleman with the fiddle and ended up buying it from him. I've had it for a month or so and I love it dearly. It fits me well and feels like an old friend.
The fiddle is from Denmark. The label inside reads 1863. There's also a notice that some repairs were done in the 1930's in Europe.
I wondered how did it get here from Denmark?
The man who sold me the fiddle told me he got it from a local man named Randall Collins some years ago. Randall said a Danish man sold it to him and told him he brought it from Denmark when he came to America, and that it was his grandfather's. The fiddle traveled in and around Denmark being played and enjoyed and now it will travel in and around Brasstown where I will play and enjoy it.
Chitter
Subscribe for FREE and get a daily dose of Appalachia in your inbox