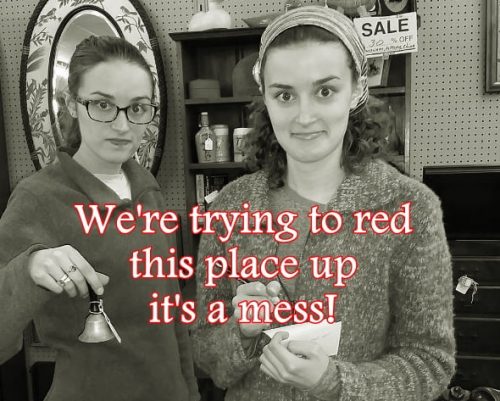 Last week  Joe Chumlea left this comment:
"Have you ever heard the term "red off", as in when I was a kid I had to red off the table after dinner?"
—-
For years I read the word red or redd in books used in exactly the manner Joe described, but had never heard it used.
About a year or so ago I was getting my hair cut and my hairdresser said she told her kids to red up the window sills in the kitchen. I almost jumped out of the chair! I said "What did you say?" She said "Oh I know my kids make fun of me all the time for saying words like red, but I've always used them. Guess I got them from my grandparents."
I assured her I wasn't making fun of her, I was just tickled to death to hear someone use the word red in that manner right here in my own county.
She is probably about seven to ten years younger than I am and was raised in Cherokee County NC just like I was. I'm still thrilled I heard her use the word and hope those kids end up saying it themselves even if they do make fun of their momma for saying it.
redd, redd off, redd up, rid up verb, verb phrase To clean or tidy (a room or object), set in order, clear debris from, arrange, Of the variants, redd up is the  most common. Its past-tense form is redd up (see 1938, 1940 citations).
1886 Smith Southern Dialect 349 They all have the authority of old or dialect English, or many of them belong to all parts of the South, if not elsewhere…red (to put in order—as, "red a room"). 1913 Kephart Our Sthn High 83 Then that tidal wave of air swept by. The roof settled again with only a few shingles missing. We went to "redding up." 1925 Dargan Highland Annals 208 An' ever' dish an' pot to be washed, an'the house to redd up, all before I can begin a day's work. 1930 (in 1952 Mathes Tall Tales 168) This bit of social and domestic philosophy brought no audlble response from the busy wife, who was briskly "ridding up" the bed. 1938 Justus No-End Hollow 130 I mean to wash and redd up the house before I do any special cooking. c1940 Aswell Glossary Tenn Idiom 15 red up = tidy, clean. "She red up the house for the family reunion." c1959 Weals Hillbilly Dict 7 Red off the table right atter we eat. 1962 Dykeman Tall Woman 201 Why, if a Northern schoolmaster comes, he might want to live with his family in the Burkes' old house, and maybe we could redd up the old mill house. 1966 DARE redd up = to put a room in order (Burnsville NC, Spruce Pine NC). 1974 Fink Bits Mt Speech 22 = arrange, make tidy. "Set here while I red up the room." 1975 Purkey Madison Co 37 Pile 'em half a kettle high so's the water'll be boilin' hot by the time I get the milk strained and vessels washed and scaled, and the house rid up a little.
[redd <Middle English redden prob <Middle Low German/Middle Dutch reden; OED Scot and north dialect; OED redd "to put in order to make neat or trim" obsolete except dialect; SND redd 7(1) "of a room, building; to tidy (up)" and rid up ; CUDD redd 2 "clear, tidy up," rid 1 "set in order"; Web 3 chiefly dialect; DARE = clear off a table chiefly North Midland, esp Pennsylvania, Ohio, Appalachians]
Dictionary of Smoky Mountain English
—-
redd (v.)
early 15c., "to clear" (a space, etc.), from Old English hreddan "to save, free from, deliver, recover, rescue," from Proto-Germanic *hradjan. Sense evolution tended to merge with unrelated rid. Also possibly influenced by Old English rædan "to arrange," related to Old English geræde, source of ready (adj.).
A dialect word in Scotland and northern England, where it has had senses of "to fix" (boundaries), "to comb" (hair), "to separate" (combatants), "to settle" (a quarrel). The exception to the limited use is the meaning "to put in order, to make neat or trim" (1718), especially in redd up, which is in general use in England and the U.S. Use of the same phrase, in the same sense, in Pennsylvania Dutch may be from cognate Low German and Dutch redden, obviously connected historically to the English word, "but the origin and relationship of the forms is not clear" [OED].
—-
Now that Joe has reminded me of the red word usage I'm going to try my best to add it to my daily conversations. In fact I'm going to go red up the kitchen right now.
Tipper
Subscribe for FREE and get a daily dose of Appalachia in your inbox