Today's guest post was written by Kenneth Hoffman, longtime member of Blind Pig & The Acorn.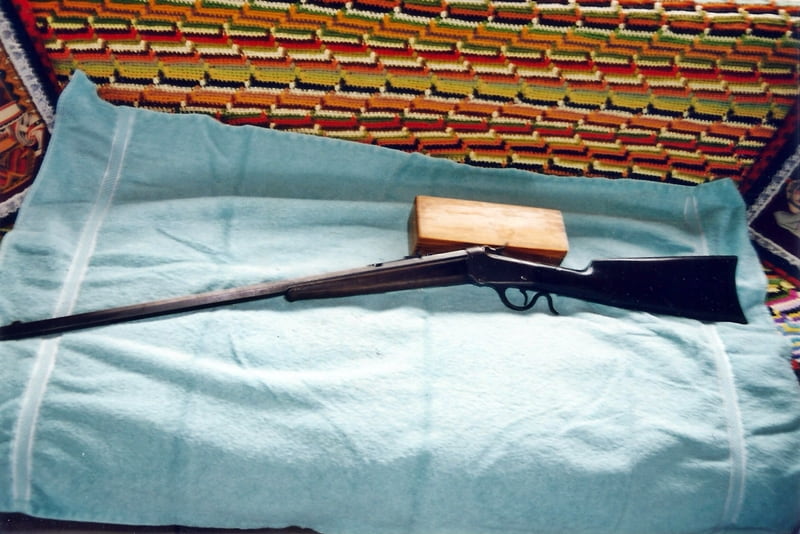 I was just leaving the house one morning in late January of 1998, when the phone rang. The call was from my Aunt Josephine in Washington state. She was quite excited and worked up about a letter from a cousin in North Carolina by name of Duane Oliver. Although my cousin was known to me, I had never met him so I knew that something big was up. And so the story begins.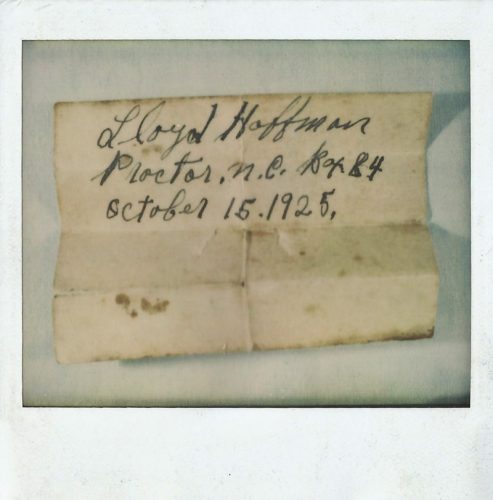 Duane had received a call from another relative explaining that an acquaintance of hers had received a call from a person named J.C. Tabor concerning a rifle that he had purchased in a shop. While he was in the shop, the owner had called this rifle to his attention even though he was not a collector of such a model. He felt a sudden need to have this rifle. The owner mentioned to him that the only screw he saw had been loosened was on the butt plate. Upon inspecting the rifle, in particular the butte plate, he found a note written on October 15, 1925 by my father Lloyd Oscar Hoffman. This was his way of identifying it in case of misplacement of it.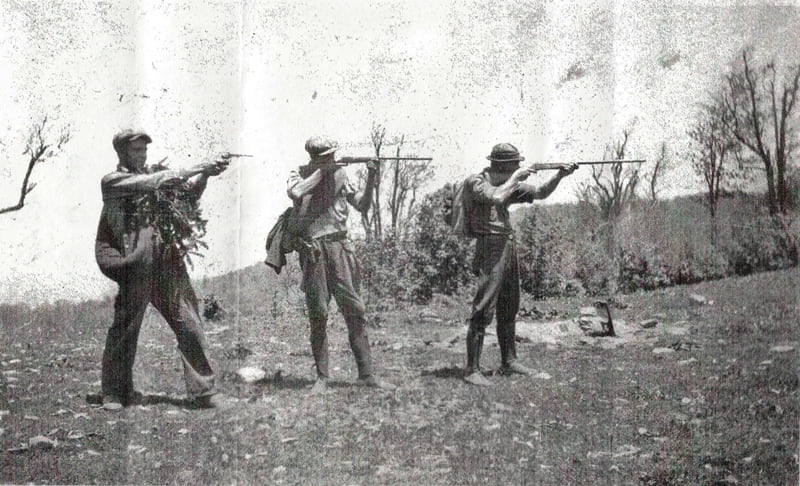 Lloyd Hoffman, Raymond Welch, Lindsey Hoffman – Silers Bald Swain County NC 1923
My Dad said he could not hit the side of a barn with the pistol in the photo above so he bought the Winchester Rifle a model 1885. All of the sudden he could hit something.
When my father gave me my first rifle, he told me about this rifle of his. He had sold it to raise money to help the family move out west in about 1927. Now 73 years later it turned up.
J.C. Tabor, being a man of sentiment had called the first relative who in turn called Duane Oliver who in turn wrote to my Uncle Chester Hoffman in Washington who in turn called me because he knew how much this would mean to me. I got in touch with Mr. Tabor and he told me this story. I told him that I could not be happier having a piece of my Dad's past since he and I had such a great relationship and I knew that he would want me to have it. We made arrangements and Mr. Tabor sent me that rifle.
The rifle is a Winchester Model 1885 22 Cal, now residing in my home.
Thanks again to J.C. Tabor and my cousins for their persistence and kindness I now have a piece of my Dad's past that I know made him very happy and that led to an adventure of relocation for my ancestors.
—-
What a story! I hope you enjoyed Kenneth's story as much as I did. His family were among the many who relocated to Washington state from the Smoky Mountains back in the day.
Tipper
Subscribe for FREE and get a daily dose of Appalachia in your inbox