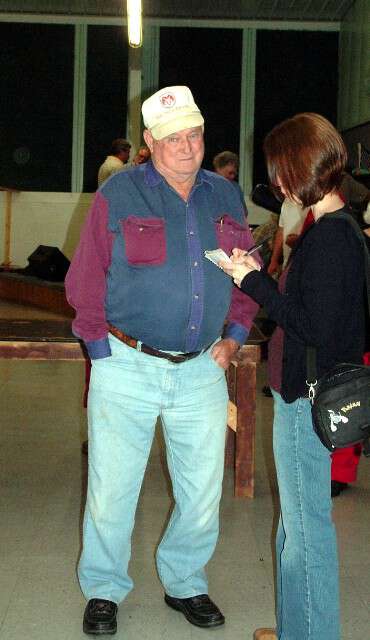 This is LC my first Mountain Folk profile. LC is one of Pap's closest friends.
I've known LC my entire life and without a doubt he is Mountain Folk.
LC is a native Appalachian who was born in 1930 in Blue Ridge, Georgia. There were 16 children in his family-7 girls and 9 boys. There were 2 sets of twins-LC was part of one set. Sadly, his twin brother, JB, died at the age of 22 from a brain tumor.
LC is an Army Veteran, who served during the Korean War. After fulfilling his duty to his country LC worked as a truck driver and heavy equipment operator until he retired. He and his wife Frankie (who just happens to be world famous for her biscuits and banana pudding) raised a family of six wonderful folks.
When I started thinking of all the different things I knew about LC and why I thought of him as a true Appalachian, many different memories crossed my mind. It was hard to narrow it down to just a few.
One of the first ones I thought of is a story I heard second hand from Pap. Many years ago while LC was driving a truck on a long haul up north he developed a toothache. Knowing he had to finish his route and not having the money or time to find a dentist-LC took matters into is own hands. After stopping to buy some Listerine to use as a disinfectant he got a pair of pliers and pulled his own tooth. If that isn't tough I don't know what is, and it definitely shows the strong independent trait attributed to Appalachians.
When I was in 5th grade my Mamaw (Pap's mother) died suddenly in the middle of the night from a heart attack. She was only 67 years old. The following morning when I got up and went into the kitchen-LC and Frankie were already there sitting with Pap and Granny. There to do what they could at such a sad time. I think this one sticks in my mind because Mamaw's death was the first one in my life that truly broke my heart and it was the first time I ever saw Pap cry.
LC is dedicated to helping out his community. He regularly volunteers at the community center and if anyone is hosting a benefit for someone in need-LC is the first to offer help by selling chances, collecting auction items or anything else they need him to do.
LC is known as the chewing gum man to all the kids. He always has a pocket full of gum for them and is even willing to share it with the grown-ups like me.
As you can see, LC has a true generous nature-another great Appalachian trait.
As I explained to LC that I wanted to feature him on my site where I celebrate our Appalachian Heritage, I asked him if he had anything to say about Appalachia. LC's reply "If I didn't live here, I'd be getting here as fast as I could." I think that pretty much sums it up for me too.
Tipper