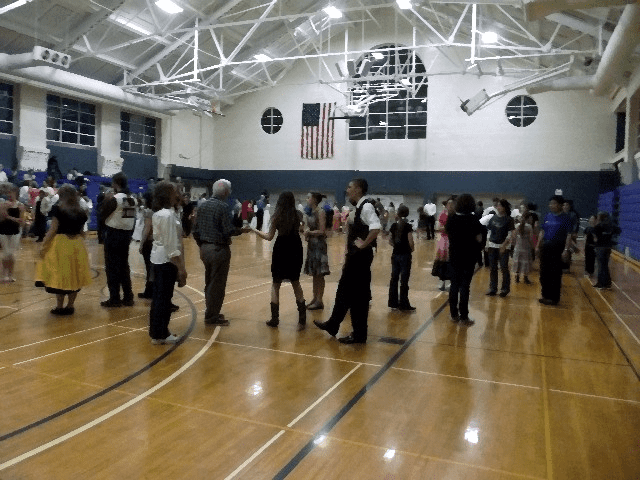 Each year participants of the Mountain Folk Festival in Berea, KY are given an opportunity to take part in a dance workshop of their choice. Various workshops are offered-things like Morris Dancing, English Country Dancing, Jump Rope Clog, Square Dancing.
This year the girls signed up for Kentucky Running Set. Neither me nor the girls had ever even heard of the style of dancing. We thought it sounded like fun since the description said the dance is performed with no music-only the rhythmic sounds of the dancers feet and hands are heard along with the caller's voice.
Jennifer Rose Escobar led the workshop. Before the kids got started dancing she shared the history of the dance style with them.
Cecil Sharp (1859-1924) is most well known for collecting English folk songs and folk dances. According to Escobar, Sharp discovered what he termed Kentucky Running Set at the Pine Mountain Settlement School.
The Square Dance History Project offers this information regarding Sharp and his discovery:
The name "running set" comes to us from the work of the great English song collector Cecil Sharp, founder of the English Folk Dance Society and, in 1915, what became Country Dance and Song Society. During the years 1916–18, Sharp and his colleague Maud Karpeles spent more than 40 weeks traveling throughout the southern Appalachians, collecting ballads and other songs.

It was at a school in Pine Mountain, Kentucky, that Sharp first encountered dancing. No musicians were present, but someone commented, "Let's run a set," and people started clapping hands to set a beat for the dancers. (That casual comment became solidified as Sharp dubbed the observed dance form the "running set.") Sharp was entranced by the dancing and took detailed notes that form the basis of his description in his Country Dance Book. He wrote in his diary (October 8, 1917), "This dance is as valuable a piece of work as anything I have done in the mountains."
As Jennifer began teaching the dance, the calls seemed really difficult at first. But once they went through them a couple of times the kids had them down pat. The calls were things like 'shoot the owl', 'wild goose chase', 'grapevine twist', 'uptown downtown', and the girls' favorite the 'Georgia rang tang'.
Watch the video below to see the dance.
Chatter and Chitter really enjoyed learning the dance-and of course they fell in love with the song-Killy Kranky. (If you missed the post about the origin of Killy Kranky-click here).
Hope you enjoyed the dance too!
Tipper