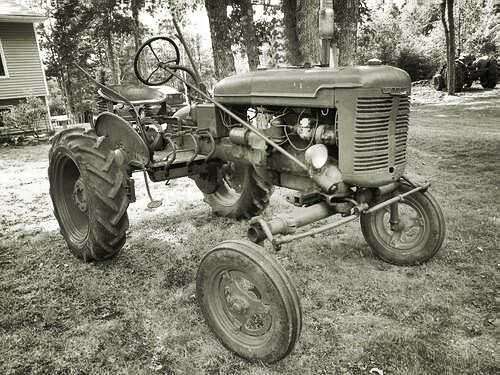 Childhood Days on the Farm in Summer – written by Glenda Beall
Growing up on a farm was fun for a little tomboy like me. My sister, Gay, and I played under the big oak tree that sheltered our frame house from the south-west Georgia high temperatures. When we weren't playing with the kittens we caught in the hay loft we played on the back porch. We played "farm" because that was what we knew.
Daddy smoked Bull Durham tobacco and rolled his own in white thin papers. The empty tobacco bag with a drawstring made a good wagon, and the empty match box became our horse. The string fitted perfectly around the box for a harness.
Store bought toys were scarce in our household. We only got them at Christmas time, but we never lacked for something to play with, even if our imagination created it.
I had four older brothers who worked in the fields with my father and in summer the sun burned them brown. They teased me and often made me angry, but I loved them.
One day when Gay and I were playing on the back porch, my brothers came out to go to the field. Max had a bright idea and talked me into going with him. He insisted I could drive the Farmall tractor while he, Daddy and his brothers pulled corn and tossed it into the wagon. I was only six and I thought it would be fun to drive a tractor.
Max lifted me up to the seat. He told me to push the clutch with my foot and only let it up when he told me to. He said when he yelled for me to stop, I should push the clutch again. The tractor moved so slowly a person could walk faster.  I also had to keep the tires on the front in the middle of the rows so I didn't run over the corn stalks. It was a little harder than I had thought. I was too little to sit on the seat, so I leaned against it in order to reach the clutch with my foot.
At first it was an adventure. But the sun got really hot and grasshoppers flew up from the ground and hit me in the face. At the end of each row, Max climbed on the tractor and turned it around. Sometimes I accidently drove right over a row of corn and, boy, did I hear about it! I didn't think about why it made my brothers mad for me to run over the corn stalks, but now I know. If I smashed the stalk to the ground, the men had to bend down and pick it up to pull the ears of corn. That took more time.
I was there to save time so they could get the job done quicker and everyone could go home. If I were not driving the tractor, one of the brothers had to drive and that was one less corn picker on the ground. Like any six-year-old, my mind wondered at times, and I heard a yell from behind me. One day they hurt my feelings when one of them hollered at me.  "Stay in the middles and stop running over the corn!"
I was tired and hot. I had enough of their yelling at me. I pushed in the clutch and turned off the engine. I climbed down and announced, "I'm going home." My brothers began to cajole and sweet talk me, asking me to stay just a little while longer.
I heard Daddy laughing out loud. "You have to be nice to that little girl. She's not gonna take your complaining."
I walked home and got me a cold glass of water. Gay was happy to see me. We decided to play with our dolls inside for the rest of the afternoon.
—-
Tipper
Subscribe for FREE and get a daily dose of Appalachia in your inbox