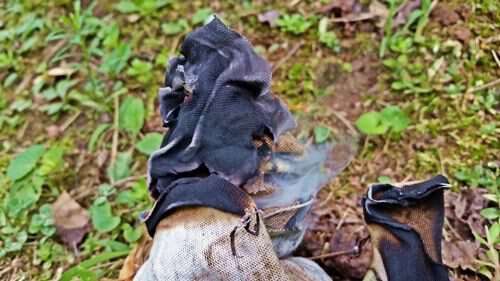 "We never throwed away nary scrap of cloth til it got so wore out it coutn't even be used for a dishrag. Old wore-out rags was used to make gnat smokes to smoke away gnats and 'skeeters in the evenin'. We rolled 'em up in a roll about two inches acrost, and tied it loose so hit'd keep afire, but not blaze and burn it up. Sometimes we put gnat smokes in an ol' rusty surp bucket, so we could move it, 'stid of us a-havin' to move when the wind changed an blowed the smoke torge us. Dad allus kep' a gnat smoke handy on the porch. He liked to set in a straight back cher out on the porch in the evenin'. He'd lean backerds til the top of his chair was scotched back again the wall with the front legs r'ared up off the porch and his whole weight on the two back chair legs. Then he'd put his feet on the bottom rung. I 'spect you might call that a hillbilly recliner. I come in a bean of a gittin' my killin' when I tried it. I must've been too fer away from the wall, and r'ared back too fer, for the back laigs slid fards on the floor, the top of the chair hit the wall, raked down and slammed it down on the porch, with me on the inside of it, there. Well sir-there I laid, flat a my back like a mud turkel (turtle) on its back, with my laigs 'n arms a-stickin' up 'n flappin' the air, a-tryin' to git up. Fool like, though, I kep' at it til I got so I could set like that, too. I never was one to give up easy. Stubborn as a flop-eared mule, I was."
~Gratitude for Shoes Growing up Poor in the Smokies – Cleo Hicks Williams
———–
Pap would always take an old rag and start a little smoky fire with it if we were outside having a weenie roast or fishing to keep the bugs away. And I can't' count the times I've seen men sit in a straight back chair in the manner described in the excerpt. Unlike Williams, I never got up the nerve to try it myself.
Tipper
Subscribe for FREE and get a daily dose of Appalachia in your inbox