Today's guest post was written by Ethelene Dyer Jones.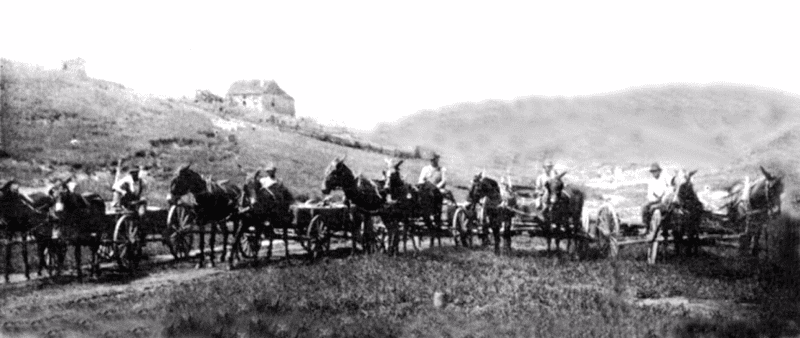 Photo provided by Polk County News
Fiddling George Barnes, Last of the Copper Haulers
By Ethelene Dyer Jones
A considerable amount of romance (meaning legend, mystery, adventure) is tied to the days of early mining and copper exchange in the Copper Basin. This is especially true of the men who were known as the copper haulers along the Old Copper Road. Perhaps none of them were as well known or had as many admirers as George B. Barnes.
We have perhaps heard stories of him, and if we have visited the Ducktown Basin Museum, we have seen displayed there the fine old fiddle that once belonged to this copper hauler, citizen and fiddle-player, George Barnes.
James Barnes (June 13, 1811-August 9, 1859) and his wife, Susan (maiden name unknown – September 23, 1813 – October 14, 1886) had five known children. Daughter Emaline (August, 1836 – July 9, 1885) married first, Enoch Farmer about 1854, and after he was killed in the Civil War, she married, second, John W. Headrick. George B. Barnes (March 20, 1840 – November 5, 1919) married Sarah Gassaway about 1860. They had a daughter, Amanda, who married William Leander Dalton. Nancy was born about 1842, but whether she lived to adulthood is not known. Martha Ann was born about 1844 and married Samuel J. Moore, Jr. in 1869. William C. Barnes, known as Billy, was born January 21, 1872. This younger brother worked with George in the copper mines and as a hauler.
Captain Julius Raht, who had a great influence on the economic growth of the Ducktown Basin area, purchased a fine violin on his travels to Cincinnati or elsewhere and made a gift of the violin to George B. Barnes. Endowed with a natural talent with music, and with the mountain gift of making the strings sing, George was much in demand as an entertainer and a fiddler at various parties throughout the Basin area.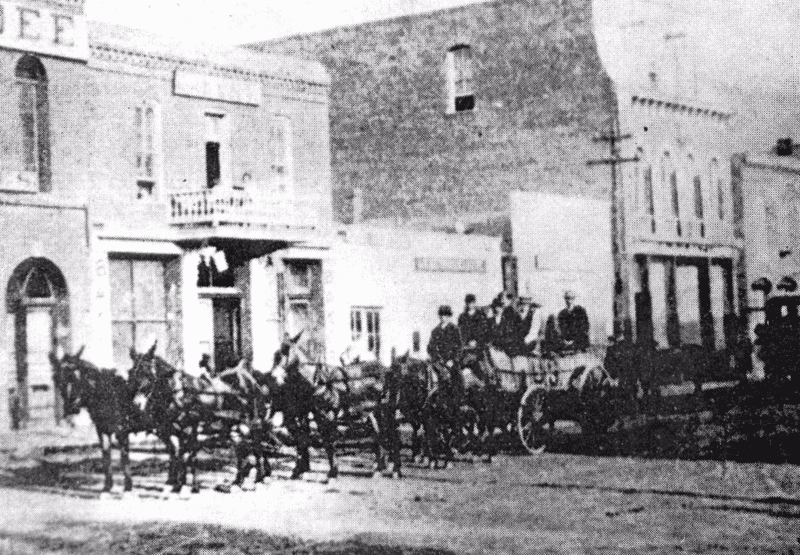 Photo provided by Polk County News
The copper haulers would often stop off at what was known as the Halfway House, about mid-way between Ducktown and Cleveland, Tennessee on their journey along the Old Copper Road. Mr. Roy G. Lillard, historian, in his book, Polk County, Tennessee, 1839-1999, gives a list of the men employed as copper haulers. There may have been more, but these were documented: George Barnes, I. A. Gassaway, James Rymer, W. C. Barnes (George's brother), R. Boyd, W. P. Barker, A. J. Cloud, J. H. Williams, R. M. Cole, James Lingerfelt, John Lowry, William Center and W. A. Center. From time to time others joined in the hauls:  Major J. C. Duff, Taylor Duff, Parker Duff, Pen Jones, Jim Ingram, Asbury Blankenship, Joe Dunn, Joe Hasking, Reuben Carver, Samp Orr, Ephraim Woody, Jim Hughes, Jay Fry, Tom Bates, William Williamson, Quint Gilliland, John Hutchins, Posey Parker, Rev. W. H. Rymer, John Moody, Joe Cain and a Greer boy who lost his life along the route. (See Lillard, page 166).  These surnames read like a roster of present-day citizens still in the Copper Basin.
The load limit, strictly enforced, was no more than 500 pounds of copper per draft animal in the team. If a hauler had two mules, his cargo could weigh at 1,000 pounds. But four, six and eight mule teams were not uncommon, and give an idea of the weight of copper these haulers moved. The road was through rough terrain and of poor quality. It was not unusual for the wagon to sink into a rut, and with the grade difficult anyway, the poor mules would stall.
Some of the copper haulers, not as gentle and humane as George Barnes, would use a black snake whip to coerce the mules to move. Mr. Barnes was noted for getting out his violin to play music to soothe the mules. Legend holds that his method for getting the stalled team to pull the load out of the ditch and to get back onto the road worked every time.
At the Halfway House, guests never seemed too tired to hear George Barnes play his fiddle.  A little hoe-down never hurt anyone, and especially the copper haulers. Their spirits were lifted and the music made their stop-over more enjoyable. Captain Julius Raht himself purchased the Halfway House after the Civil War in 1866. He made it into a fashionable place to stop for overnight stays, to eat and to be entertained. Who knows but that it was during his period of ownership of this boarding house along the Copper Road that he gave the violin to Fiddler George Barnes.
The Greer boy who assisted the copper haulers, probably as a groomsman for the mules or a general helper, met his death while he was working as a hauler's helper. He requested that he be buried along the road so he could see and hear the haulers as they passed by. Is it any wonder that legends evolved about this lad whose likeness could sometimes be seen at twilight, keeping his vigil along the mile-long stretch where his grave overlooked the Copper Road?
During or immediately after the Civil War, George B. Barnes met misfortune at the hands of the notorious John Gatewood, leader of the infamous gang of bushwhackers. Gatewood shot at Uncle George Barnes, hitting him in the eye area and permanently damaging his sight.  But Mr. Barnes was not killed by the blast. In fact, he was able to live for several more years, dying in 1919.
I recently had a delightful call from Mr. Pat Terry, former citizen of the Copper Basin and now a resident of Atlanta. He commented about Captain Julius Raht, and we went from that to talking about Fiddler George Barnes, his wife's uncle. He knew the violin came as a gift from Captain Raht. Mr. Terry told me that the violin was damaged, its neck broken badly. Mr. Barnes got cherry wood and carved a new neck to attach to the old violin. The workmanship was so perfect and the mend so flawless that the violin looked as though it had never been damaged.
Fiddling George Barnes had the distinction of taking the last load of copper from Ducktown to Cleveland just prior to the change from mule-drawn freight to railroad shipping.
I wonder, during the cold December hauls, did Fiddling George Barnes play Christmas carols to soothe his mules stranded in the ruts of the Old Copper Road? Were the evenings near Christmas at Halfway House filled with strains of "Silent Night" and "O Little Town of Bethlehem"?  I like to think so. I can almost hear him now, making that violin talk.
———————
I hope you enjoyed Ethelene's post as much as I did. A fiddle player that could sooth the mules-pretty neat uh? Wonder if Chitter's playing could calm them?
Fun fact- Copper Hill is the small town which surrounds the copper mine and that's where I was born.
Tipper